Yarışma Sonuçları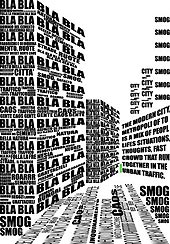 Elena Giacomolli (City Empire)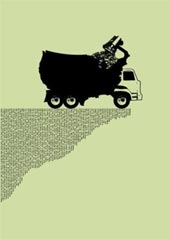 David Holt (untitled)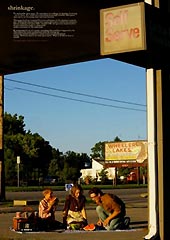 Christopher Patten (Picnic)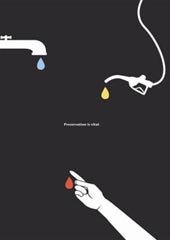 Stephanie White (Vital Fluid)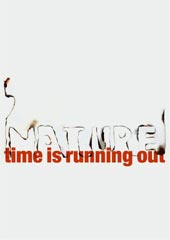 Giovanna Zanghellini (Time is running out)
Yarışma Bilgileri

The goal of the awards is to seed and cultivate our shared desire for a better world. The result of the Shrinkage Worldwide Awards are multi - disciplinary, multi - use posters which explore, divulge, foster, sensitise and awaken both shrinkage culture and experience.
The completion of the Shrinkage Worldwide Awards will build the foundation for the realization of a unique, informative and educative art and design experience which contributes to the momentum of a sustainable future by providing an experience that provokes and stretches the minds of its viewers.
Eligibility
This is an international award open to anyone with design ideas inspired by shrinkage culture. Enter alone or in a group. Collaborative and multi-disciplinary teams are encouraged, i.e. a designer and a scientist, or designer and a journalist.
Prizes
Finalist - winning entries will be chosen at the jury''s discretion and announced enter 28 December 2007. The entries will be showcased at SAP(Seeschau Art Pavilion) in Zürich and at major art and science institutions.
Requirements

Submit as many entries as you''d like; send a separate submittal form and entry fee 30 EUR, and 20 EUR students (for each entry). Entries are due by December 24, 2007.
The international jurors will make their decision based on the design's simplicity, intellectuality and clarity of transmitting the message to ordinary people and professionals. Their assessment will be based on the award programme and the ollowing criteria: clear realization of shrinkage culture, openness to all levels of nations' and societies' cultures, distinctive
and those that entice the viewer to unfold and discover the shrinkage culture.
Jury

Christoph Eggenberger, philosopher
Lui Galati, designer and architect
Stephanie Von Fürstenberg, artist
Bettina Schulz, editor and writer
Siamak G. Shahneshin, critic
Kenneth Yeang, architect and author
Yarışma Şartnamesi
Yarışmanın şartnamesine ulaşmak için tıklayın.