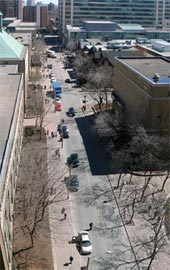 Designing Gould Street is an open, international student design competition to propose an innovative, imaginative series of spaces that will transform the existing Gould Street corridor of Ryerson University in Toronto, Canada into a pedestrianized environment. The Competition is held in conjunction with the 8th annual international pedestrian conference, Walk21 Toronto 2007 - "Putting Pedestrians First". The conference is co - hosted this year by the City of Toronto and Green Communities Canada and will run from October 01 - 04, 2007.
For the last two years, there has been much discussion about how Gould Street should be rethought to make it a safer and more student - friendly. In fact there has been an active voice asking for a pedestrian - plan for Gould Street in the student papers for over a decade.
This ideas competition will serve to add to the energy growing around the campus. The reconsideration of how a North American urban street encourages more pedestrian - focused activity is part of the wider movement of pedestrianizing roads and streets, not only in North America but in the rest of the world.
Who Can Enter?
Any individual or group who are students and registered in an academic institution may enter the Designing Gould Street competition. This is an international competition open to all countries.
Schedule

Competition Launched - July 01, 2007
Online Question-and-answer sessions forthcoming
Submission Deadline - September 17, 2007
Jury Selection - September 22, 2007
Walk21 Toronto 2007 Conference - October 01 - 04, 2007
Announcement of Winning Submissions - October 02, 2007

Jury

Daniel Egan - Manager, Pedestrian and Cycling Infrastructure Unit, City of Toronto
Urban Designer / Planner (to be determined) - City of Toronto
Thomas Kong - Assistant Professor, Architecture, Interior Architecture, and Designed Objects (2006) School of the Art Institute of Chicago.
Anders Nereim - Associate Professor, Chair, Architecture, Interior Architecture, and Designed Objects (1989) School of the Art Institute of Chicago.
Manuel Ravinsky - Ryerson University
Selection Criteria
The jury, by a majority vote, will determine the first, second, and third place winners of the competition. If a jury member cannot be at the judging a replacement will be found. The 3 honourable mentions will also be determined by a majority vote.
The selection criterion covers:

- Innovative and original response to the design brief
- Quality and clarity of the presentation
- Development of a workable and memorable pedestrian-focused site response
- Resolution of a need for access to the street that balances the different users of Gould Street
Awards
The jury will award three cash prizes and 3 honourable mentions. The prizes are 5.000 Dolar, 2.500 Dolar, and 1.000 Dolar. The top three awards and the honourable mentions will also receive a free registration to Walk21 Toronto 2007 conference in Toronto during October 01 to 04, 2007. Honourable mentions do not include a cash prize.