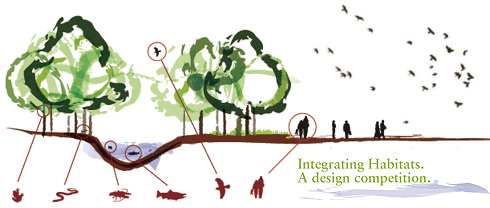 Integrating Habitats will challenge entrants to work across disciplines in collaborative teams to create elegant and functional designs for conceptualized sites typical of the Portland metropolitan region. The competition's challenge is to create successful and innovative site designs that blend open space access, site planning, and environmental preservation and restoration in construction and development.
The design categories
- neighborhood infill development with a remnant oak woodland/savannah habitat interface
- mixed use development with a riparian forest habitat interface
- commercial development with a lowland hardwood forest habitat interface

Participants
Students and practitioners from all relevant disciplines, including landscape architecture, architecture, planning, urban design, stormwater management, engineering, water quality, ecology, wildlife biology and development, are encouraged to participate.
Outstanding features
A world - renowned jury will select the very best designs and announce them at an award event. In addition, citizens and communities will select their favorite designs via the People's Choice Awards, a web-based gallery voting system. The Design Guide, a publication featuring the top choices, will be distributed throughout the region and beyond to promote projects that feature nature-friendly development and serve as a definitive resource for the design and development communities on solutions to protecting and restoring nature in new and re-developments.
Registration:
15 June - 15 October 2007
Non-refundable fee: $25, payable online
Late registration:
15 October - 17 December 2007
-Non-refundable fee: $125, mailed in with submittal materials
Entries due:
All entries must be delivered or post - marked by 4:30 p.m. (16:30 PST) on 17 December 2007.