Yarışma Sonuçları
Top Prize Winners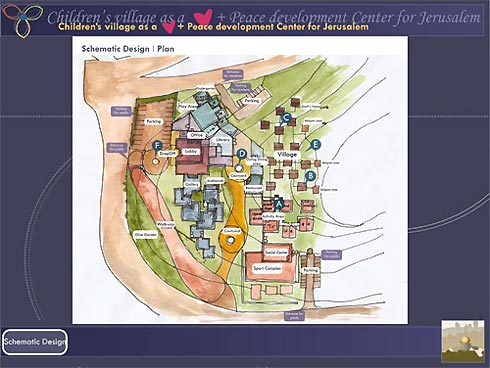 "Children's Village for Jerusalem" Wai Lai Chan (University of Technology, Malaysia) - Skudai, Malaysia
"Look Up: Rainwater Harvesting" Michael Lin (Miami University of Ohio, Program in International Studies) Fairfield, US. Ann Davis (MUO, International Studies) Oxford, US. James Orwig (MUO, International Studies) Oxford, US. Amanda Zazycki (MUO, International Studies) Oxford, US.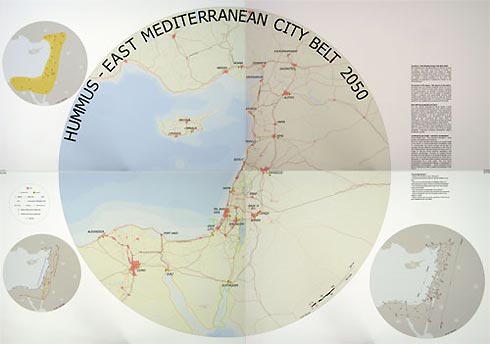 "HUMMUS: East Mediterranean City Belt 2050" Siegfried Atteneder (University of Art & Industrial Design) Vienna, Austria; Lorenz Potocnik, Vienna, Austria
"Envisioning Jerusalem through Media Barrios and Performance Spaces: Proposing Pilot Media Barrios in Kafr Aqab and Shuafat RC" Nitin Sawhney, Cambridge, US; Julie Norman (American University) DC, US; Raed Yacoub (Youth Media Initiative) Ramallah, West Bank.
Honorable Mentions

The Landwalker" Ming Tang (Savannah College of Art & Design) Savannah, Georgia, US; Dihua Yang (Savannah College of Art & Design) Savannah, Georgia, US
"The New Zidonians" Christos Papastergiou (Architect, Studio FORAR) London, UK; Christina Ioannou (Architect, Studio FORAR) London, UK
"Jerusalem Olympics: An International City, An International Event" Caitlin Hill (Savannah College of Art & Design) Savannah, US; Gordon Marshall (SCAD) Savannah, US
"Mosaic Project: Jerusalem Crafts & Communities Fair: An Inter-Community Empowerment Plan" Nurit-Hilia Tsedaka (Hilia), Kibbutz Kyriat Anavim, Israel.
"Pilgrimage on the Seam" Jay Isenberg (Architect, Isenberg & Assoc.) Minneapolis, US; Ronald Haselius (Designer, Avian Craig, Inc) Minneapolis, US
"Station" Yair Wallach (Birkbeck College) - UK
"Resource Recovery in Jerusalem: From Waste-land to Nourishing Terrain" Kirsten Miller (Landscape Architect, University of Melbourne) Melbourne, Australia
Director's Award

"West Bank Barrier Crossing" Matthew Rajcok and Alex Zimmer, Cambridge MA (King Open School)
Yarışma Bilgileri

As the culmination of the many activities of the Jerusalem 2050 Project at MIT, they are pleased to announce the launch of the Just Jerusalem Competition. The goal of this competition is to generate new approaches to, and potential solutions for, the many complex, seemingly intractable problems that the residents of Jerusalem face on a daily basis. By looking at future possibilities for a pluralist, just, and sustainable city shared by Palestinians and Israelis, we hope to encourage new ways of thinking about the many difficult issues and hardships faced by Jerusalemites, regardless of their faith or ethnicity.
Just Jerusalem is an international competition calling for innovative visions for the city of Jerusalem and what it might be if justice and urban livability, rather than competing nationalist projects, were the principle points of departure. The goal of the organizers is not to produce a contemporary master plan for the city, but to solicit entries that envision Jerusalem, real and symbolic, as a just, peaceful, and sustainable city by the year 2050. The year 2050 is not an arbitrary point in time so much as a metaphor for a future far enough from the present conflict to allow some freedom to imagine a different situation, but near enough to generate serious deliberation. Entries are not limited to architects and urbanists, but rather, will also be elicited from artists, historians, poets, political scientists, philosophers, economists, engineers, and all others who have ideas for the future of the city. We strive for a plurality of voices and encourage multi-disciplinary teams.
MIT-based Jerusalem 2050 Steering Committee Past and Present

Diane Davis, director
Leila Farsakh, co-director
Ariel Bierbaum
Everett Mendelsohn
Naomi Chazan John de Monchaux
Tali Hatuka Zeina Saab
Yosef Jabareen Richard J. Samuels
Jennifer Klein Bishwapriya Sanyal
Daniel E. Levenson Richard Sennett
Nora Libertun Duren John Tirman
Hania Maraqa Lawrence Vale
Jury

Submissions will be evaluated by 9 internationally recognized leaders from a variety of fields including architecture, political science, politics / diplomacy, philosophy and urban planning. The Jury is composed of the following members:
- Ute Meta Bauer, Professor, Director of the Visual Arts Program in the Department of Architecture, MIT.
- Meron Benvenisti, Historian and Geographer; Former Deputy Mayor of Jerusalem.
- Manuel Castells, Professor Emeritus of City and Regional Planning, University of California, Berkeley; Annenberg Professor of Communication, University of Southern California.
- Harvey Cox, Hollis Professor of Divinity, Harvard University.
- Herman Hertzberger, Architect, Architecturstudio Herman Hertzberger; Professor Emeritus Delft University.
- William J. Mitchell, Professor of Architecture and Head, MIT Design Lab; Former Dean of the School of Architecture, MIT.
- Sadako Ogata, President, Japan International Cooperation Agency; Former UN High Commissioner for Refugees, 1991-2000.
- Suha Ozkan, Turkish architect, Secretary for the Aga Khan Award for Architecture.
- Salim Tamari, Professor of History and Sociology,Birzeit University, and Director of the Institute for Jerusalem Studies.
Submission Eligibility

Individuals or teams from any country are invited to enter. Multidisciplinary and multinational teams are encouraged.
Prizes
-
5 Top Awards:
At least one prizewinning entry will be selected in each category of submission, with a total of 5 awarded. Prizewinners will be given the opportunity to spend up to an academic semester in residence at MIT as Visiting Fellows, with all expenses paid, including travel, housing, and stipend. In the case of team submissions, no more than three individuals per winning entry will be hosted as fellows. While at MIT, all fellows will participate in university seminars and workshops with faculty and invited dignitaries to work towards the implementation of their design ideas.
-
Honorable Mentions:
At least five honorable mentions will be selected. All winning entries and honorable mentions will be included in documented publications, exhibitions, and accounts of the competition.
Calender
Announcement of Competition
2 March 2007
Registration
31 March - 31 December 2007
Questions Deadline Round I
31 March - 31 May 2007
Answers
15 June 2007
Questions Deadline Round II
30 June - 31 August 2007
Answers
15 September 2007
Submission Deadline
31 December 2007
Results / Selection of Winning Entries
April 2008
Public Exhibition, MIT
September - December 2008
Digital Exhibition
September 2008 onward
International Tour of Winning Entries
October 2008
Public Conference
January 2009