Yarışma Sonuçları
Winner:
Eric Olsen (Architect, College Professor)
Yarışma Bilgileri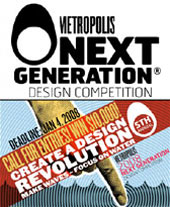 The 2008 Next Generation Design Competition focuses on Water. In a world of killer floods and rising tides, potable water is a finite resource. Water is everywhere - in nature, industry, home, our bodies, products, interiors, buildings, landscapes, systems (just to name a few).
With up to one third of the global population living without reliable access to clean water, we need better design solutions that account for potable water, gray water, black water - its uses, re-uses, controls, management, efficiency, and conservation.
Eligibility
The Next Generation Design Competition is open to any designer or architect in practice for ten years or less, as well as design students. The $10,000 prize is intended to support designers whose entries reflect considerations of sustainability, distribution and manufacturing systems, economy, current technologies and materials, function, and provocative form and can speak to any one of the 6 sub-disciplines supported by the magazine—architecture, urban planning, landscape design, interior design, product design, and graphic design. Remember that beauty is an important aspect of good design. Employees of Sponsors are not eligible. All entrants agree to be bound by the Official Rules.
Entry Fee & Deadline
The entry fee is $75 for each submission. All entries must be submitted by January 4, 2008 at 11:59 p.m. Residents of the following states by law are not required to pay an entry fee: MD, ND, and VT.
Maximum Number of Submissions

Up to three submissions will be accepted from an individual or team of collaborators. A separate application and entry fee is required for each project submitted.
Announcing the Winner & Runners Up
The winner will be featured in the May 2008 issue of Metropolis and on metropolismag.com. The runners up will also be announced in the May 2008 issue, and stories about select projects will be featured in the Next Generation section of Metropolis magazine thereafter and posted on the Web site.
Judges
-
Lance Hosey
- Eric Chan
- Fiona Cousins
- Pam Light