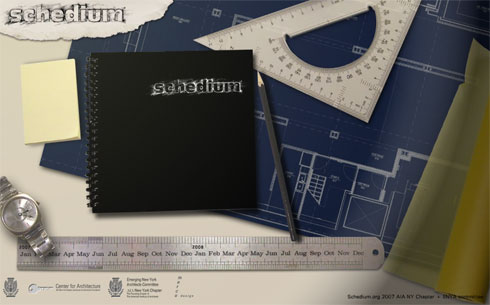 An integral portion of the Schedium series is a portfolio Call for Entries, intended to celebrate the drawing abilities of emerging architects. Winners may be asked to participate in the live drawing series.
Eligibility
To be eligible, you must possess a degree in architecture, or an equivalent international degree. Entrants must have either received their degree after January 1, 1991 or have received their architectural license after January 1, 1997 (whichever criterion is less restrictive). International practitioners are welcomed.
Process

The process of selecting emerging architects for participation in the program will be three-fold.
Phase I – Open

Phase I is open to all architects who fall within the eligibility requirements. Applicants will be asked to submit a portfolio (no larger than 11x17 format, no thicker than 1") as well as a digital version of the presented material. A short essay by the applicant and a letter of recommendation will also be required. Specific submission requirements are listed on the web site.
Phase II – Semifinalists Selected

The jury will select up to ten percent of the entrant pool for consideration in Phase II. These semi-finalists will be asked to submit additional support material that highlights their drawing capabilities and speaking skills. Request for additional information will be provided to Semifinalists, upon selection. Each applicant will be responsible for production and delivery costs associated with submitted material.
Phase III – Finalists Selected for Interview
From the Phase II finalists, twelve applicants will be invited to interview for a chance to participate at one of the Schedium events. These interviews may be conducted either over the phone, or in person. Dates and specifics will be provided to Finalists, upon selection.
In the event that in-person meetings are required, each applicant will be responsible for transportation costs associated with their interview.
Schedule
08 March 2007
Schedium Portfolio Call for Entries opens
29 November 2007
Deadline for Portfolios
08 December 2007
Jury Deliberations
31 January 2008
Live Drawing Event at Center For Architecture, NYC
Spring 2008
Auction and Awards Ceremony at Center for Architecture, NYC
Awards
Four winners will be chosen. Winners will receive a $ 1.000 stipend. Additional benefits may also include: participation in the Schedium series of events; exhibition of winners' work at Center for Architecture, or other venue; publication of winners' work; additional invitations to speak; and media coverage.