The purpose of Resort Marco Polo ideas competition consists in the collection of projects and ideas for the fulfillment of a multifunctional structure aggregate to sports equipments that already exist inside Marco Polo Sporting Center area in Vittorio Veneto (TV) Italy.
The participation is opened to everybody in nameless form.
Competition object
The project, other then forseeing functions/actions that can be considered strategical for the fulfilment of the structure, has to consider the essential functions written below:
- Outdoor and/or indoor pool
- Fitness center
- Beauty farm and wellness center
- Multifunction rooms (min.3)
- Climbing gym
- Futsal courts
- Maintenance equipment room and accessory rooms (dressing rooms, boiler room, etc.).
The planning has to consider, other then the "all seasons" use, the best insertion of the structure in the environmental context and the energy saving.
The planning has to consider that the volume of the structures "out of ground" (that is the indoor space usable over the ground) cannot pass 1100 mc (cubic meter), while there is no limit for the indoor space usable under the ground.
Location and spreading
The project area has a range of 7000 m² (square meter); it has a quadrangular shape and it is set by the golf field, the football field, the locker rooms and the street.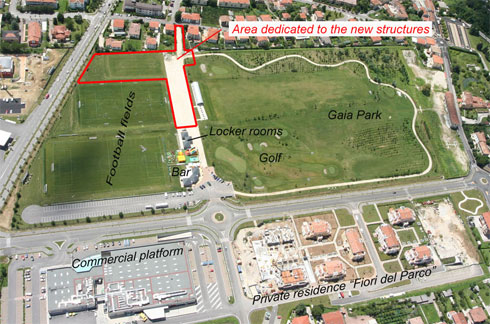 Competition deadline

The project has to be delivered till the
30th November 2007
to: Segreteria del "Concorso di idee RESORT MARCO POLO"
c.o. IMPRESA TONON spa via Menarè 25, 31014 Colle Umberto (TV) Italy.
Commission

The Commission will be composed by:
- Prof. Giancarlo Scottà (majhor of Vittorio Veneto)
- Mr. Roberto Tonon (Managing Director of Impresa Tonon spa)
- Mr. Mario Petterle (Manager of Impresa Tonon spa)
- Mr. Dino Perin (Manager of Impresa Tonon spa)
- Architect Flavio Frassinelli.
The pricipal judjement criteria will be the following:

- Project quality (distribution and functional aspect)
- Graphic quality
- Integration with existing structures
- Building Materials choice in relationship with environmental sustainability and energy saving
- Innovation and characteristics of the innovative components introduced.
The Commission work will start 15 days after the deadline and will finish in 4 months.
Awards
1st prize
3000 Euro
2nd prize
1500 Euro
3rd prize
1000 Euro
4th prize
500 Euro
Special prize for innovation
1000 Euro
Special prize for schools
1000 Euro