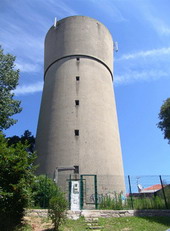 Águas Do Porto, the city of Porto municipal water company, intends to create innovative uses for its water towers and surroundings of underground water tanks. These tanks are typically surrounded by gardens and unused operational buildings, some of which are located on hilltops with fine views.
These spaces are potentially open to the public for environmentally sustainable activities, compatible with the operational and safety requirements of their primary water supply use.
Young architects are invited to present ideas for any of the seven sites, which will be evaluated and judged on their own architectural merits.
The secondary use of the sites will be subsequently offered to public tender, based on the ideas presented by the young architects challenge, giving the designer responsible the professional opportunity to join the promoter''s team in the preparation of their proposals and to create the chosen design.
Although the participation of local architects in the international teams is expected, Google Earth and the audiovisual presentations of sites will provide the background information required.
Participants
Innovative Ideas for Porto Water Tanks is open to any team coordinated by an architect, architecture graduate or architecture student that does not complete 31 years of age before 10 December 2007.
Programme
It is envisaged that the sites will continue to be used for water supply. It is essential that the spaces may be open to the public and that the sites may support an economically viable activity that covers both construction and running costs. Examples of activities include bar, restaurant, library, golf training or field sports.
Entry Submission
Entry shall be submitted via internet to
www.aguasdoporto.pt/innovativeideas
by
20 January 2008
(GMT). Entry shall be assembled in a single compressed .rar or .zip file not exceeding 50 Mb. (additional instructions can be found at the web page)
Judging A Jury
Composed of one member of the board of Águas do Porto and two senior chartered architects – will examine all of the projects submitted, selecting one winning project per site. Up to three Mentions per site may be attributed (with no compensation).
The criteria for the evaluation of the competition will be compliance with the
brief
including demonstration of:
- Innovation,
- Relevance and recognition of public attentiveness,
- Fitness for purpose and relationship to the surrounding environment,
- Financial feasibility,
- Communication.
(The criteria are not ranked in order of importance)
Prize
The winner will receive a prize of 6.000 Euro (including tax).
Implementations
The secondary uses of the sites will be put to public tender afterwards, based on the projects presented by the young architects' competition, giving the authors the professional opportunity to join the promoter's team in the preparation of their proposals and to create the chosen design.

Competition Language
The competition language is Portuguese or English.