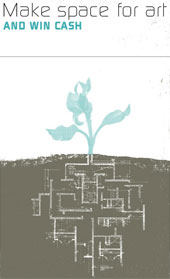 Make Space For Art is an open, international Juried Design Exhibition for La Reunion TX (LRTX) Artist Residency. The Exhibition of 20 - 30 selected entries will provide a platform to discuss issues of sustainability, creativity, and community, and a chance to access a unique and unrefined site. The submitted entries are intended to generate a broad spectrum of ideas for the LRTX Artist Residency and to encourage community involvement in the project.
Criteria

All submitted entries should clearly demonstrate the ideas, themes, and designs for each of the following criteria in response to the Program below:
- To Inspire: Innovative, Insightful, and Creative Architectural Design
- To Sustain: Sustainable Construction Methods and Materials
- To Renew: Appropriate Response to the Site and Escarpment
- To Engage the Community: Facilitate Education and Outreach
Program
The LRTX Artist Residence facility shall accommodate the following program. All spaces shall be ADA compliant.
A Multi-functional Living, Gallery, Installation and Performance Space
1.
Available for performances, lectures, and workshops.
2.
Available for after-school programs, education, and outreach.
3.
Able to accommodate 50 people sitting and 100 standing, once a month.
4.
(2) Restrooms.
5.
Kitchenette to be suitable for basic food prep, catering staging and storage.
An Office
- Suitable for three staff members, and with plenty of lockable storage.
Artist Residences
1.
Four units of 400 square feet or less per unit.
2.
Private, small, efficient, and secure.
3.
Each will have a small bathroom, kitchenette, and sleeping area.
Studios shall be
1.
Four units of 400 square feet or less per unit.
2.
Flexible and Adaptable.
3.
Well-ventilated.
4.
Could be used as a New Media Studio or Traditional Media Studio
- New media could include TV, Video, Film, Computer, Content Creation, Music, Audio, Illustration, Photography, Writing, Graphic Design, Digital Editing, and Engineering.
- Traditional arts could include Painting, Writing, Illustration, Dancing, Acting, Music, Sculpture, Singing, and Printmaking.
5.
Loading access.
Site
1.
Respond to limited development allowable in the Escarpment Zone
- Steep, wooded, environmentally fragile bluffs located at the contact line between the Austin Chalk and Eagle Ford Shale Geologic formations. Some areas are heavily degraded by dense understory of non-native privet. The Forest canopy is less mature towards disturbed edges.
- Tread lightly on the site.
- Minimize foundation and any building footprint within the Escarpment Zone.
2.
Make use of Existing House
- An existing house in very poor condition is located on the site.
3.
Parking
- Provide 30 parking spaces along Jefferson Blvd.
- Additional spaces can be used at the school or church near by.
Phases of Master Plan

All submitted entries should provide a Master Plan which includes proposed locations for the future development of Phases 2 and 3.
Phase 1
Program as listed above, Residences and Studios for Four Artists within the La Reunion Lot.
Phase 2
Proposed location of Additional Residences and Studios for up to Ten Artists within the La Reunion Lot.
Phase 3
Proposed location of Outdoor amphitheater for musical and theatre performances within the La Reunion or Conservation Lot. Allow for seating for up to 200 people.
Registration
Registration is open until
17 December 2007
. The competition is open to any architect, landscape architect, designer, engineer, or artist except members of the jury or La Reunion board members. All entrants will remain anonymous so submitted entries will be judged equally. Each submitted entry must be registered separately. The following fees shall be paid at the time of registration in the form of a check, money order or credit card.
Student Entry (Individual):
35 Dollars
Individual Entry:
55 Dollars
Team (2-4) Entry (Includes teams of students):
75 Dollars
Entry Submission
Entries must be submitted to the following address with a postmark no later than
January 31, 2008
by 17:00. All entries must include a signed entry form. No late submissions will be accepted. LRTX is not responsible for postal delays, late or lost entries.
Deliver or mail entries to:

La Reunion TX
Attn: Sarah Jane Semrad
4848 Lemmon Avenue, 100-117
Dallas, Texas 75219
Questions and Answers
To maintain an environment of fairness, selected questions and answers will be made available to all registered entrants.
Members of the LRTX Team will answer questions from entrants prior to the entry submission deadline. All questions must be submitted via email to
[email protected]
No answers will be sent exclusively to entrants unless the question is determined to be solely regarding an entrant's individual submission.
Jury and Awards
A jury of three to five judges will select first, second and third prize-winning entrants shortly after the entry deadline. Jury voting procedure will prevent any ties for occurring. Award notification will be made confidentially to each winner.
The following prizes will be awarded to winners:
First Prize:
5.000 Dollars
Second Prize:
2.500 Dollars
Third Prizes:
1.000 Dollars
Sustainable Prize:
1.500 Dollars
Several entrants may also receive the prize of honorable mention with announcements at the awards ceremony.
The decisions and opinions of the jurors represent their professional viewpoints, not the opinion of LRTX. Additional awards may be given at the discretion of LRTX.
All monies accepted from sponsors of this competition will go towards prize money first and then towards the LRTX Building Campaign.