Yarışma Sonuçları
:output Grand Prix
- "Barcode Plantage", Daniel A. Becker (Fachhochschule Mainz, Germany)
- "Wall City", Vasileios Kiousis (University of Greenwich, Greece)
Print Creativity Award
"Gisela Noack''s Bookbinding Workshops Poster", Tomas Celizna, Daniel Harding (Yale University School of Art, USA)
Yarışma Bilgileri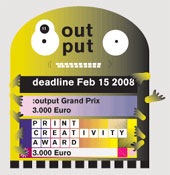 Works carried out by students usually disappear into drawers after presentation to a relatively small college audience. There the work remains invisible. :output is the biggest international competition for students in design and architecture. The works selected by the jury will be published in the yearbook :output.
:output Grand Prix

For the first time this year the jury will honour the best work from all submissions to the :output competition with the :output Grand Prix. The winner will be awarded a scholarship of 3.000 Euro (currently about 4.500 US Dollars). With this scholarship we want to foster talented young blood designers and also present the high quality of the work which is done at design colleges and art schools to a broader public.
Print Creativity Award
Also for the first time this year the "Print Creativity Award" will be presented as part of the competition :output in cooperation with the Sternberg Foundation. The winner will be awarded a 3.000 Euro scholarship. Additionally the Sternberg Foundation will grant up to four scholarships worth 500 Euro for projects to receive an honorary distinction. This prize wants to present works which explore new possibilities of working with print media. For example the connection of print with mobile communication, interactive media, unusual materials (e.g. for packaging) or three dimensional spaces.
The Jury

All works to be included in the yearbook :output, the winner of the :output Grand Prix and the nominations for the Print Creativity Award are selected by an international jury of renowned designers and educators. The jury meeting will be held in March - April 2008 in Amsterdam.
- Franco Clivio, Product Designer, China
- Florian Pfeffer, Graphic Designer, Netherlands
- Hartmut Raiser, Architect, Germany
- Gerard Unger, Type Designer, Netherlands
- Michael Worthington, Graphic Designer, USA
Who can participate?

Anyone who is currently studying communication design, product design, architecture, interaction design or film at a university or a college is eligible to participate. Students who have graduated within the last 12 months may also submit final degree works.
What can you submit?
Any work, which has been produced as a student project, is eligible for submission. The work may not be older than one year. The project does not have to be published. Work related to any area of design and architecture, such as: graphic design / architecture / product design / typography / photography/ illustration / typeface design / multimedia, moving image and television graphics / experience design is eligible for submission.
Deadline for submissions
Latest date for submissions is February 15, 2008 (date of postage).
Yarışma Şartnamesi
Yarışmanın şartnamesine ulaşmak için tıklayın.