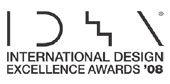 The IDEA (International Design Excellence Awards) program is the premier international competition honoring design excellence in products, ecodesign, interaction design, packaging, strategy, research and concepts. Entries are invited from designers, students and companies worldwide.
Winning entries will receive press coverage in BusinessWeek magazine and businessweek.com as well as in hundreds of newspapers and networks, including CNN, NBC, PBS, CNBC, The New York Times, The Los Angeles Times, The Washington Post and the general design press.
Eligibility Criteria

To be eligible for IDEA 2008, the following criteria must be met:
Participant Qualifications
- Open to designs and designers worldwide.
- Open to students worldwide. Student entries can only be submitted in the Student category, even if the design is in research, production or corporately funded.
- If you entered last year and didn''t win, and if your product still meets all the other criteria you can resubmit.
- Entrants may enter as often as they like, but each entry must be purchased and submitted separately.
Distribution Qualifications
- Products must have been placed in distribution between February 28, 2006 and February 29, 2008. This means the product must be available for sale in its final form to its intended end users through normal sales channels during that period.
- Student entries must have been submitted to the school between February 28, 2006 and February 29, 2008.
- Design Concept entries must not be scheduled for production. If you are submitting a Design Concept, it must have been finalized or submitted to the client between February 28, 2006 and February 29, 2008.
- Research designs must have been submitted to the client or school between February 28, 2003 and February 29, 2008.
Judging Criteria
The IDEA 2008 judging is based on the following criteria of industrial design excellence. These criteria are weighted by the judges as they deem appropriate for the category:
1.
Design innovation
2.
Benefit to the user (performance, comfort, safety, ease of use, user interface, ergonomics, universal function and access, quality of life)
3.
Benefit to the client (increased sales, market penetration)
4.
Benefit to society (importance, economic viability, manufacturability)
5.
Ecological benefit (responsible use of materials and processes
throughout lifecycle, including material durability, toxicity, source and waste reduction, energy efficiency and repair/reuse/recyclability)
6. Visual appeal and appropriate aesthetics
7.
Usability testing, rigor, reliability (Design Research category)
8.
Internal factors and methods, implementation (Design Strategy
category)
IDEA 2008 Categories
Designs for practically anything may be entered. The subcategories range in scope from small desk accessories to giant mechanical equipment. If your entry doesn''t fit into the category you have selected it will be recategorized. Students must enter in the Student category.
Note: An asterisk indicates that for these categories, an actual product sample should be sent for the final judging round unless an exemption is requested. Finalist entries in other categories will be invited to submit other appropriate supplementary material (videos, scale models, product brochures, etc.).
Commercial & Industrial Products

Building Equipment & Systems / Industrial Furniture, Fixtures & Lighting / Heavy Machinery / Construction & Industrial Vehicles / Other Equipment or Devices / Concepts & Prototypes
Communication Tools*
Phones and VOIP / Cell Phones, Smart Phones, PDAs / Navigation Devices / Earpieces & Headsets / Accessories / Concepts & Prototypes
Computer Equipment*
Desktops / Laptops, Notebooks, Ultra-mobiles / Servers & Housings / Portable Devices / Display Screens, Monitors & Projectors / Input Devices / Peripherals / Concepts & Prototypes
Design Strategy

Design Strategy & Management
Ecodesign*
Entertainment*
Stereos, Speakers / TVs, DVD Players / Headphones / Cameras & Camcorders / Personal Audio Players / Accessories & Cable Management / Musical Instruments / Home Theater / Multimedia & Gaming Equipment / Multifunction Devices / Mobile Entertainment / Concepts & Prototypes
Environments
Corporate, Public & Private Spaces / Environmental Graphics & Signage Systems / Museum Exhibits & Set Designs / Showrooms & Retail Merchandising / Trade Show Exhibits / Concepts & Prototypes
Home Living*
Appliances / Home & Decorative Accessories / Kitchen, Garden & Workshop Tools / Cutlery & Kitchenware / Residential Furniture & Lighting / Fixtures & Hardware / Concepts & Prototypes
Interactive Product Experiences*
(use the Interactive Product Experiences entry form)
Consumer, Home & Personal / Business, Communications & Productivity / Games & Multimedia / Concepts & Prototypes
Leisure & Recreation*
Toys & Games / Sporting, Fitness & Camping Gear / Concepts & Prototypes
Medical & Scientific Products
Clinical & Diagnostic Products / Industrial & Scientific Products / Surgical & Therapeutic Products / Home-Care & Self-Care Products / Concepts & Prototypes
Office & Productivity*
Supplies & Organizers / Equipment & Fixtures / Writing Instruments / Office Furniture & Lighting / Concepts & Prototypes
Packaging & Graphics*
Packaging Graphics / Packaging Structures / Concepts & Prototypes
Personal Accessories*
Apparel / Backpacks / Eyeglasses / Footwear / Handbags / Hats & Helmets / Watches / Concepts & Prototypes
Research
Design Research Projects
Student Designs
Undergraduate Student Projects / Graduate Student Projects
Transportation

Automotive Exterior & Interior / Marine & Aircraft Exterior & Interior / Motorcycles / Recreational Vehicles / Bicycles / Concepts & Prototypes
Timeline
03 December 2007
Contest opens for entries
29 Febuary 2008, 23:59 PST
Regular application deadline
07 March 2008, 23:59
PST
Late application deadline*
Week of 31 March 2008
Finalists are notified by IDSA and invited to send supplementary judging material
30 April – 02 May 2008
Final judging event in Washington, DC
Week of 05 May 2008
Winners notified
17 July 2008
Winners are announced to the public in BusinessWeek magazine and at www.idsa.org
10 - 13 September 2008
IDEA ceremony at the IDSA National Conference in Phoenix, Arizona
*Any edits to your entry between February 29, 2008 at 23:59 PST and March 7, 2008 at 23:59 PST will constitute a late entry and the extended deadline fee of 110 US Dollars per entry must be paid by March 7, 2008 at 23:59 PST, or the entry will not be judged. Entries cannot be submitted after March 7, 2008, 23:59 PST and will not be judged, returned or refunded. (Foreign late payments must be made with American Express, Visa or MasterCard or with a check or money order in US funds drawn on a US bank.) In the event of a dispute over timing of submission, the time used will be that time which is stamped on the digital submission in the online entry software. Entry fees and late fees that are not paid for in full by the final deadline will be subject to immediate disqualification. Entry fees are non-refundable.
Entry Process
Entries will only be accepted online at
http://www.omnicontests3.com/idsa/omnicontests
for the first round of judging. Eligible entrants in certain categories that conform to the core judging criteria will be asked to submit physical samples of their designs for the final round of judging. Finalists in other categories will be asked to send in video or scale models/prototypes, extra images, product spec sheets, or other category-specific material. Check the category list at
www.idsa.org/idea
for the most up-to-date entry requirements by category.
Before you log in to upload your materials, be sure to review categories and sub-categories and choose the most appropriate for your entry. Have all of your information ready to submit, including:
- A complete and accurate list of design credits and clients including contact information;
- Answers to entry form questions. For categories requiring special entry forms (Research, Strategy and Interactive Product Experiences), please refer to the corresponding entry form template for specific requirements. All other categories use the general IDEA entry form.
- Images: all images should be .JPG or .GIF, 96 dpi, in RGB colorspace, 480 x 670 px and no larger than 1MB each. Images may be color or black & white. PDF files should be no larger than 3MB each.
• One "glamour shot" with a white background showing the product''s best view
• Up to three (3) images or a one (1) page 8.5 x 11 PDF storyboard to explain the design challenge
• Up to three (3) images or a one (1) page 8.5 x 11 PDF storyboard to explain the design solution
- Video: An optional video not to exceed 60 seconds and 10 MB. Acceptable file formats are .MOV, .WMV, .AVI, .SWF, and .MPEG/.MPG
Judging Process / Awards
The judging is blind: the designers, their names and the names of consulting firms may not appear anywhere in the entry form. Failure to abide by this rule results in immediate disqualification. Names or logos of manufacturing companies/clients may appear if they are inherent to the product.
Jurors do their initial scoring online in teams of two for their assigned categories. In this first stage of judging, the jury will evaluate all entries for eligibility, completeness, thoroughness, appropriateness and general conformance to award criteria. Specific criteria may be weighted differently in different categories, at the judges'' discretion.
Finalists meeting a minimum score after the first round will be invited to submit supplementary material, according to the category of entry. For certain categories, submitting the actual product will be optional but highly recommended. For other categories, entrants will be invited to submit mounted photographs, storyboards, videos or models/prototypes. Complete instructions will be provided to Finalists upon notification.
In the second stage of judging, after reviewing the supplementary entry material sent in by the Finalists, judging teams will meet in person to decide which entries exemplify the key principles of design excellence and recommend a Gold, Silver or Bronze IDEA Winner at this time. The entire jury will then have the opportunity to review the category judges'' recommendations, and additional votes may be required before final award determinations are made. The jury''s decisions are final.
Best Student Design, Best Concept Design, other Best of Category Awards and Paradigm Shifter Awards (or other ad hoc awards) may also be given at the jury''s discretion. The Best in Show Award may be given to the one Gold-winning entry deemed best in show by the jurors. This award will be determined at the conclusion of the regular jurying by clear majority vote.
People''s Choice Award: Voting for this award will be conducted online after the winners are announced, and the voting is open to the public. Each person may only vote once. Only the Gold winners will be eligible to win the People''s Choice Award.
2008 IDEA Jury
Alistair Hamilton, IDSA, Chair
Rinat Aruh
Sudhir Bhatia
Cameron Campbell
Don Carr, IDSA
Mark Dziersk, FIDSA
J. Ryan Eder, IDSA
Barbara Flanagan
Tom Garvey
Andrew Hartman, IDSA
Peter Haythornthwaite, IDSA
Jean Jacques L''Hénaff , IDSA
Liza Lamb
Bill Mak, IDSA
Mary Reid, IDSA
Rob Tannen, PhD, IDSA
Philip Thompson, IDSA
Frank von Holzhausen, IDSA
Glen Walter, IDSA