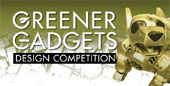 Greener Gadgets is a one day conference scheduled for February 1st, 2008 and featuring key representatives from some of the largest consumer electronics companies in the world, innovators from academic thinktanks, members of startups focused on renewable energy, and some of the leading minds in the word of sustainable design and business.
Designers are invited to explore the concept of "Greener Gadgets." Designs should seek to minimize the environmental impact of consumer electronic devices at any stage in the product lifecycle. Areas of sustainability to consider include:
1.
Energy
2.
Materials / Lifecycle / Recycling
3.
Social & Educational Development
Participants are encouraged to consider their designs as part of the entire product ecosystem, and should think as holistically as possible. Designers may choose to focus their entries on a particular area of human enterprise (learning, playing, communicating, etc.), or a particular context (work, home, school, etc.), a particular material, or a specific device. Entries may also seek to create new paradigms for products and services
Judging
Entries will be pre-judged by representatives from Core77 and Greener Gadgets. A set of finalists will be selected for final judging LIVE on stage at the Greener Gadgets Conference on 01 February 2008 in New York City. (Finalists are not required to be in attendance.) Winner and runners up will be determined at the event though a combination of on-stage judging panelists and audience votes.
Judging Criteria
Entries will be judged on the following criteria: innovation, clarity of design, originality, form and presentation.
Prizes
Grand Prize:
2.500 US Dollars
Two Runners Up:
1.000 US Dollars each
Schedule & Rules
26 December 2007
Submission begins
27 January 2008, 23:59 EST
Entry Deadline (competition closes)
29 January 2008
Finalists notified
01 February 2008
Finalists showcased at Greener Gadgets Conference. Winner and runners up selected
Publicity

All winners may be required to participate in press initiatives including the following:
- Names and winning concepts to be incorporated in all PR outreach and press materials surrounding the Greener Gadgets competition.
- Winner and Runners Up will each be required to submit a headshot and bio for press use.
Eligibility
This competition is open to all designers, students and enthusiasts worldwide. Employees of Inhabitat, Marc Alt + Partners, and Core77 are not eligible to enter.