Yarışma Sonuçları
Professional - Innovation

Glenn Bevann (Australia)
Lorrin Windahl (Australia)
Professional - International:
Diego Zavala Figueroa
Student - Innovation:
Ferry Tantono (Australia)
Student Sustainable:
Liam Mcgavin (Australia)
International - Student:
Carsten Olsen Nielsen
Yarışma Bilgileri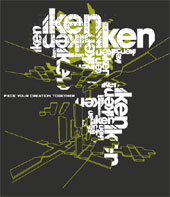 "Workstation of the Future 2008" is recognised as one of the most exciting design competitions in the country. Iken, in conjunction with various sponsors is offering a unique and exciting opportunity for architects, designers and students to conceive the office of tomorrow. There are great prizes to be won including a 10-day trip to Orgatec, Cologne, a visit to our manufacturer Gispen in The Netherlands and a visit to Okamura in Japan!
Categories

This competition seeks innovative and intelligent ideas based on the functionality and scope of changes in the workplace environment. Entrants are encouraged to design the workstation of the future incorporating the latest uses of structural, colour, form, material and design innovation.
There are two categories each for professionals and students:
- Innovation Award
- Sustainable Award
How to Enter
Design submissions are to be sent to Iken and include:

1.
Up to 3 x A3 colour copies of the design concept
- Submission must include a 3D perspective view
- Design drawings must be to a working standard (hand drawing or CAD rendered acceptable)
2.
CD containing all images in high resolution PDF digital files
3.
Maximum 300 word description of the most important features of the design highlighting any functional, innovative and environmental elements
4.
Signed Entry Form (Please provide a hard copy of the above)
Reward
The Workstation of the Future 2008 competition offers prizes to each of the professional and student categories.

Professional
Two winners will experience a 10 Day trip to 2008 Orgatec Tradeshow, Cologne, a visit to Gispen in The Netherlands and a visit to Okamura Manufacturing Plant in Tokyo, Japan. This amazing prize will inspire and excite designers to capture the architecture and design of future workspaces. The prize includes flights and accommodation.
Student
2 x Okamura Baron Chairs valued at $800 each including delivery.
Prizes will be awarded at the absolute discretion of the judges.
Judging
A collective of industry experts will convene in July 2008 to select the winning entries.
Brandon Gien Director
Stephen Ballesty
Andrew MacKenzie
Kirsty Mate
The evaluation process of the entries uses the following criteria. Entrants are encouraged to identify the
following elements in designing the concept workstation.
- Innovation:
Innovation and advanced technology are the key focus in the development of a futuristic
work environment. Judges will be looking for new and break-through ideas for this category.
- Sustainable:
The movement towards sustainability will ensure products are designed for their long life cycle,
recyclability and re-usability options. Judges will be looking for designs which meet these criterion.
Key Dates
Entry Opens
01 October 2007
Entry Closes
30 June 2008
Winners Announced
August 2008
Eligibility
Student

A student in an architecture, industrial design or other design discipline currently enrolled in a university or
institution, who is a permanent resident of Australia, New Zealand or Fiji.

Professional
An architect, interior architect, industrial designer, interior designer or other design professional who is a
permanent resident of Australia, New Zealand or Fiji.