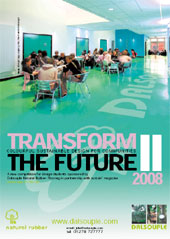 A competition for design students sponsored by Dalsouple Natural Rubber Flooring in partnership with Sustain Magazine. After an excellent response to the first year of this competition, Dalsouple has decided to run it again in 2008 - with a few important changes.
"Transform the Future" encourages design students - tomorrow''s designers and specifiers - to go out into the community and spread the word that in design, ''sustainable'' doesn''t mean ''boring''. By seeking sustainable solutions to design problems, tomorrow''s designers will make a huge contribution to the environmental performance of the built environment. And as Dalsouple''s massive range of gorgeous colours and textures clearly shows, these days ''green design'' should be anything but dull.
About Transform

Design students from relevant disciplines will need to establish a link with a local community group. That could be a school or college, like last year. Or it could be a youth centre, community hall, or other interior communal space that would benefit from a little tlc - you can think as laterally as you like. The students will work with real "clients" in the form of the people who use the space every day. Together they will identify an interior project and develop a realistic design solution, based on the clients'' needs.
The judges will be looking for creative designs that will deliver a realistic and tangible improvement to the chosen space. Particular attention will be given to the use of colour, and to awareness of sustainability in the selection of all the materials used. Of course, the design should incorporate Dalsouple Natural Rubber as a flooring material, because this will form part of the prize. And as the aim is for the winning design to be implemented, the school or community will get the benefit.
The Prizes
The winning project will receive:
- For the project: Up to 50m
2
free Dalsouple Natural Rubber Flooring as specified in the design. Plus 1.000 Euros towards the other costs of installation.
- For the Design Student(s): A one week work placement in the Interiors division of top multimedia design agency Graven Images in Glasgow. A personal prize of 1000 Euros.
- For the Design Student''s College: A prize of 1000 Euros to spend on relevant materials or projects. In addition to the main prize, highly commended awards may be made at the judges'' discretion.
The Judges

- Kevin McCloud, best know as presenter of TV''s "Grand Designs" and a keen advocate of sustainable design
- Jim Hamilton, director of award winning design agency Graven Images
- Jim McClelland, editor of Sustain Magazine - the voice of the sustainable environment
- Tim Gaukroger, managing director of Dalsouple
How to Enter

Entry to Transform is free. Entries will close on 31 May 2008, giving colleges and universities nearly a full academic year to respond.
Winners will be notified by the end of June 2008. Winning entries will be featured in Sustain magazine and displayed on the Dalsouple stand at 100% Design 2008.
Individual students and international students are also welcome to participate.
About Dalsouple
Dalsouple is a specialist manufacturer of rubber flooring for contract and domestic installations. Dalsouple is often utilised in educational establishments because it comes in a fantastic range of colours yet offers exceptional durability and performance. And Dalsouple is currently the only flooring manufacturer to offer a natural alternative to synthetic SBR rubber.
Yarışma Şartnamesi
Yarışmanın şartnamesine ulaşmak için tıklayın.