Yarışma Sonuçları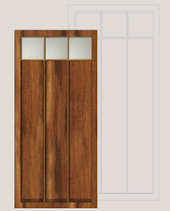 Michelle Pyne (Virginia Tech, USA)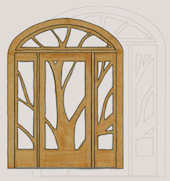 Jennifer Gilmore (University of Maine, USA)
Yarışma Bilgileri
In this contest JELD-WEN is searching for doors that put a contemporary twist on a traditional design or draw from contemporary inspiration. Contestants may be inspired by the past, present or future, as long as the design is a functioning door that could be installed in a home today. All entries should be designed for use as an entry door or entry system. This can be as simple as one operational door or as complex as two or more doors, sidelights and a transom.
Eligibility

This contest is open and offered to all students enrolled at an accredited college or university in one of the fifty (50) United States, its territories or the District of Columbia throughout the contest period. Void elsewhere and where prohibited by law. Employees of JELD-WEN, CMD, their affiliates, subsidiaries, advertising and promotional agencies, anyone working on this product, project, or promotion and the immediate family members of each are not eligible.
Number of entries
You may submit as many drawings as you like. Designs that are currently in our offering or in the design process are not eligible. Designs that are currently offered by or in the design process by our competition are not eligible. All drawings submitted become the property of JELD-WEN, inc.
Prizes
Two first place winners will each receive 3.000 Dollars in scholarship money. The scholarship prize will be paid directly to the college or university for qualified expenses as determined under Internal Revenue Code Section 117. The qualified expenses include A) tuition and fees required for enrollment and B) fees, books, supplies, and equipment required for courses of instruction. JELD-WEN, inc. reserves the right to name additional winners or prizes.
Unclaimed prizes
Unclaimed prizes will not be awarded. No substitution of prize is offered, no transfer of prize to a third party is permitted, and non-cash prizes cannot be redeemed for cash value, except as determined in sole discretion by JELD-WEN, inc. Prizewinners are responsible for any applicable federal, state or local taxes on prize; if applicable, winner may receive an IRS tax Form 1099 for the value of the prize. Any difference between actual value of prize and approximated value of prize as stated in these Official Rules will not be awarded. Any mail (email or postal), including but not limited to any portion of prize, addressed to participant and returned to JELD-WEN, inc. as undeliverable without a forwarding address will result in prize forfeiture.
Contest period

Contest is open starting 1 September 2007 at 12:00:01 AM (ET) and ends 29 February 2008 at 11:59:59 PM (ET).
Decisions
Judges will be selected by JELD-WEN, inc. and may include but are not limited to: JELD-WEN, inc. employees, customers, design professionals, members of the media and design education individuals. All judging decisions are final. Designs will be judged on but are not limited to: suitability for contemporary architecture, usability as a functioning entry door or entry system, creativity, uniqueness, and thorough attention to detail. JELD-WEN, inc. reserves the right to change or modify this contest.
Fee
No purchase or fee is necessary.
Notification

All winners will be notified by phone, email or mail and will be listed on our website and in our press releases by 1 July 2008.