Yarışma Sonuçları
Winning Schools
Johns Hopkins University
Student Technology Services & Digital Media Center
Baltimore, Maryland, United States
Zhongnan University of Economics and Law
Wuhan City, Hubei Province, China
University of Wisconsin-Madison
Department of Engineering
Madison, Wisconsin, United States
Missouri University of Science and Technology
Department of Physical Facilities
Rolla, Missouri, United States
Nicolas Copernicus University
Department of Biology and Earth Sciences
Torun, Kujawsko-Pomorskie, Poland
Stockholm University and KTH
Department of Computer and Systems Sciences
Kista, Stockholm, Sweden
Cardiff University
Department of Information Services
Cardiff, Cardiff, United Kingdom
Bournemouth University
The Business School
Poole, Dorset, United Kingdom
Peking University
School of Electronics Engineering and Computer Science
Beijing, China
Yarışma Bilgileri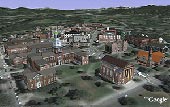 This Spring, you and your friends can honor your home turf and hone your 3D skills by entering Google SketchUp''s 2008 International Model Your Campus Competition. Simply model your school''s campus buildings in Google SketchUp, geo-reference them in Google Earth and submit them by uploading to the Google 3D Warehouse to earn lasting online glory.

Eligibility
You may enter this competition if you are a student at a higher education institution almost anywhere in the world. Please read the official rules before registering. Team up with other students, or take the project on yourself. We suggest you have a faculty advisor in order to do the best work possible.

Start Modeling
Choose to model some or all of the buildings on your campus. They should be modeled in SketchUp and be textured using digital photos. For tips on developing photo-textured models, view our best practices document, our tips for modeling, and a building example. You can also join our Google Competition Group to discuss issues, ideas, and solutions for modeling.

Registration
Register your team members first, then create a collection in the 3D Warehouse where you will upload your campus models. You will have a 3D Warehouse URL after creating your collection. Come back to the registration page to enter this URL. This is how we will match your team members with your models.

Awards
Each member of the top 3 - 5 teams (comprising a maximum of 30 people) will win a package that includes an Apple iPod Touch, a Nintendo Wii Console, and a Google t-shirt and hat. In addition, winners will be featured on the Official Google SketchUp Blog.

Jury
- Susan Koenigs (Information Technology Director, Callison)
- Ken M Tse (AIA / Vice President, HKS Architects, Inc.)
- Jeff Winston (Principal, Winston Associates, Inc.)

Schedule
Registration and submission of your models must be completed by noon PST, 01 June 2008.

All entries can be viewed in the 3D Warehouse 2008 International Model Your Campus collection. The winning entries will be chosen and announced by 15 July 2008.