Yarışma Sonuçları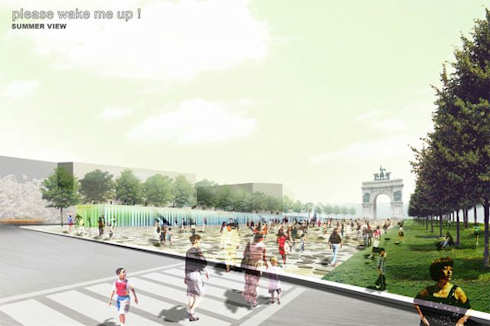 Images: Design Trust for Public Space
Joint First Prize: "Please Wake Me Up!" by Gauthier le Romance, Guillaume Derrien (Paris)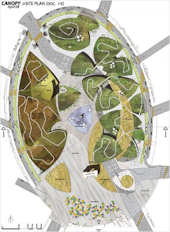 Joint First Prize: "Canopy" by Anne-Sophie Coue, Chrystelle Sanaa, Stephane Mauget and Christian Matteau (Nantes)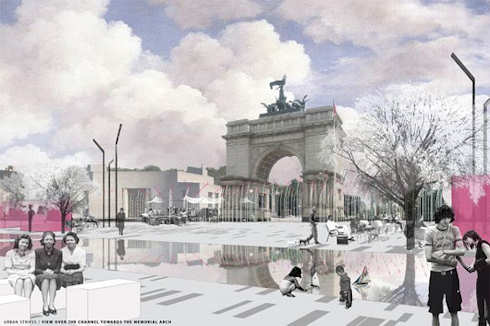 Second Prize: "Urban Stripes" by Andras Jambor and Vincent Hertenberger (Paris)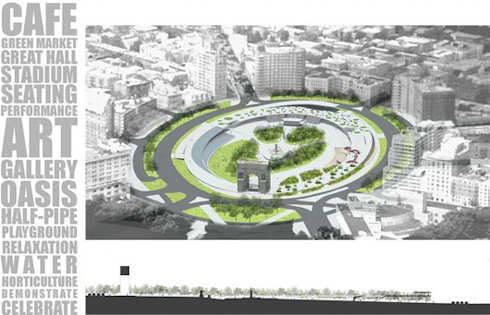 Third Prize: "A Center for Brooklyn" by James Garrison, Brandt Graves, Simon Kristak, Vanessa Moon, Tim Peterson, Sal Tranchina, Aaron Tweedie, Darshin Van Parijs, Elliot White, and Michael King (Brooklyn)
Yarışma Bilgileri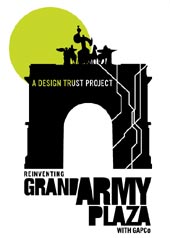 Grand Army Plaza is New York City's greatest unrealized asset. To catalyze Grand Army Plaza's rebirth, the Design Trust for Public Space, in partnership with the Grand Army Plaza Coalition, has launched this international ideas competition, "Reinventing Grand Army Plaza", to generate new visions for every aspect of the plaza's design.
Eligibility

The Reinventing Grand Army Plaza Ideas Competition is open to all interested entrants. Individuals, teams, professionals, students, artists and others are all encouraged to contribute their visions. Multiple submissions from any one individual or team are permitted, although each entry must be submitted under a unique email address.
Application and Entrance Fees

There is a required 30 Dollars fee per entry. At the end of the application process, all entrants will be guided through the payment process. All fees must be paid through PayPal. Submissions will not be finalized until payment is processed.
All entries will be reviewed by the jury anonymously. Thus, all submitted text and images must be free of any marks, logos, or writing that identifies authorship. The presence of any such insignia will result in disqualification.
Submission Requirements

All submissions must be submitted digitally through the competition website. After being guided through the creation of a unique, anonymous login, competition entrants will be prompted to submit the following:
- Contact Information
- Project Information: The project''s title, brief description of the proposal (50 words or less), thedesign philosophy and vision for the Plaza and identify key design elements (500 words or less)
- Images: Four drawings, renderings or images that illustrate your proposal. Any medium may be employed to produce images; clarity in communicating your scheme should be the goal.
Required images include:
- Site Plan
- Representative Section
- Perspective
- Perspective
Failure to upload the required number and type of images will result in disqualification.
Four additional images are permitted, but not required. These images may include details of key design elements (plans, sections, elevations, etc,), additional sections or perspectives, or other representations that help communicate key design principles or elements.
Files can be submitted in JPEG, PNG or GIF format. The dpi should be set at 72dpi, and each individual file should not exceed 5 MB in actual file size.
The top 30+ entries will be included in an exhibition in fall, 2008. Please save a high-resolution version of each submitted image, as top entrants will be contacted and required to provide high-resolution images that can be printed to fill a 48" x 72" space.
Prizes
First Prize:
5.000 Dollars
Second Prize:
2.000 Dollars
Third Prize:
1.000 Dollars
Jury
- Jonathan Butler (Founder and Editor of Brownstoner.com)
- Elizabeth Meyer (FASLA)
- Benjamin G. Perez (AICP, Senior Professional Associate, Parsons Brinckerhoff)
- Milton Puryear (Founder and Trustee, Brooklyn Greenway Initiative)
- Ellen Salpeter (Director, Heart of Brooklyn)
- Ken Smith (Ken Smith Landscape Architects)
- Elizabeth Streb (Streb Laboratory for Action Mechanics S.L.A.M.)
- Michael van Valkenburgh (Michael van Valkenburgh Associates)
- Alex Washburn (Department of City Planning)
- Rob Witherwax (Coordinator, Grand Army Plaza Coalition)
Schedule
25 April 2008:
Submission Deadline
Late May 2008:
Jury
Fall 2008:
Outdoor Exhibition at Grand Army Plaza, Manhattan Exhibition (to be confirmed)
Exhibition and Publication
The Design Trust for Public Space will be mounting an outdoor exhibition of top competition entries in the fall of 2008 in Grand Army Plaza. A second exhibition may be held in a Manhattan location (tbd). If your entry is selected for inclusion in the exhibition, you will be required to provide a high-resolution version of each submitted image to the Design Trust for Public Space.
The Design Trust will also publish the results of the competition online, and potentially in print form. In any exhibition, publication, or website, the Design Trust will make every effort to properly credit the appropriate competitors. The Design Trust retains ownership of all competition materials and reserves the right to utilize them for publication, promotional, or for any other purpose without compensation to the entrants.
In addition, a number of additional competition entries, including all of the award winners, will be exhibited in the fall 2008 competition exhibition.