Yarışma Sonuçları
Student Category
Winners
First Place:
Tom Reynolds, England
Second Place:
Geraldine Durieux, Belgium
Second Place:
Zuzana Hebronovaj, Czech Republic
Third Place:
Muhammad Somar Taifour, Ayham Dalal, Syria
Special Honourable Mention:
Amir Ramadan, Syria
Honourable Mentions

Jan Ricny, Czech Republic
Jan Aenkae, Czech Republic
Maxence Horvath, France
Michela Rossi, Fahio Della Isole, Carlo Dotti, Marta Glangreco, Omar Valentino and Clara Vite, Italy
Ayşe Nil Şensu and Tuna Şensu, Turkey
Citations
Anthony Wan and Shireen Talhouni, England
Danny Deeb and Alaa Shahin, Syria
Katerina Frejlachova, Czech Republic
Marek Kundrata, Czech republic
Ouaees Hommous, Syria
Pernilla Hagbert and Ulrika Blom, Sweden
Ajofie Raimanovaj, Czech Republic
Professional Category
Honorable Mentions
Gabriele Falconi, Italy
Josa Tomas Videla Labayru, Spain
Ka Eul Chae, Korea
Maria Beatrice Servi, Italy
All the above mentioned entries have passed the competition's Administrative Check prior to the Judging Procedure. However, unqualified entries were also examined by the jury and some of them got awarded an Honorable Mention or a Citation as follows:
Honorable Mentions
Raymond Altoun, Syria
Tayssir Takieddine, Syria
Names are alphabetically ordered within each group. Jury comments and reasoning of ranking will be published in early September along with an on-line exhibition of entries.
The first competition exhibition will take place in Gallery Mustafa Ali in Damascus between 07 - 21 September 2008, the second in Deir Mar Musa Visitor Center between 11 - 25 October 2008.
Yarışma Bilgileri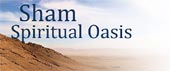 Sham Spiritual Oasis is meant to serve as a way-station for an environmental, cultural and religious Protected Area, a place where people with different heritages can meditate, pray, rest and interact. It will be located in the Visitors' Center or Deir Mar Musa's Protected Area, neighboring an oriental monastery from the 6th century with marvelous frescos and a new monastic community of nuns and monks that committed to Islamic- Christian harmony building and Abrahamic hospitality.
The Spiritual Oasis project seeks to emphasize existing inter-cultural relations and develop them in the spirit of encouraging spiritual and religious tourism. It takes into consideration the need for inter-traditional celebrative spaces; not mixing traditions, but promoting the full values of identities through deep interaction, while, at the same time, not forgetting Sham's diverse and rich culture. It is good to note that Syrian cultural is one in itself and plural in its elements. The aim is not to stress on fixed solid religious identities, rather on interpreting the heritage of Spiritual Sham; that of 5.000 years.
The participants are expected to develop your concept of the Oasis artistically through drawing a sketch and writing a composition in which the topic of the local culture welcoming others offering the gift of its own complexity is discussed.
The Spiritual Oasis is also meant to be a place of alternative tourism; one of social solidarity and caring about environmental and cultural sensitiveness, so please avoid wasting resources, especially non-renewable ones, and try to make a serious and informed consideration of the environment and eco-systems relevant to its positioning. The revival of cultural elements, especially on the level of handcrafts and arts is a priority for us, also, considering children, women, social factors, and handicapped facilities in your concept would be of added value to your project.
Sham Spiritual Oasis is meant to accommodate the following facilities:
- A space for meditation and contemplation.
- An educational museum focusing on the environment and cultures.
- A multi-purpose hall (for eating, meeting, learning… etc).
- Crafts workshops and selling points.
- A hostel of 100 beds.
- A camp site.
- Other facilities of the participant's choice (optional)
The participants are asked to present a piece of art, designed to be printed on A0 paper, Portrait format, in which:
- The vision of a site plan of the Oasis.
- A presentation of one of the Oasis facilities.
- A written composition where you will present your concept and your priorities in planning the Oasis are expressed.
Since this project is a project of dialogue in all its aspect, the text should be presented in English and Arabic languages and incorporate it in the pattern of the A0 piece of art. The written composition should form part of the piece of art; not external to it. The composition in a third language may be included.
The written composition will express the main elements of your vision of the Oasis, as a laboratory for a culturally rooted future.
The participants need to register online for the competition through the website, or through emailing
[email protected]
Registered applicants will be sent a registration number, which should be used to identify submitted materials.
Nature and Aim of Competition
The purpose of this competition is to generate concepts and plans of a Spiritual Oasis that will be built in the Visitors' Centre of Deir Mar Musa Protected Area. This Oasis will be dedicated to welcoming and receiving people in search of spiritual and meditation space, joy, rest, and communion with others. The Oasis is expected to receive up to 1.000 day-visitors in high season, and up to 200 who stay for the night. The Syrian state has allocated land to serve the realization of the project.
Eligibility Qualifications
To participate in this competition, participants should be a citizen of one of:
- A contracting party of the European Economic Area Agreement (the 27 EU member states, Iceland, Liechtenstein, Norway)
- an Arab country or a territory beneficiary of the European Neighbourhood and Partnership instrument (Algeria, Egypt, Jordan, Lebanon, Libya, Morocco, Palestinian Authority of the West Bank and Gaza Strip, Syria, Tunisia) , or
- a country beneficiary of the Instrument for Pre-Accession Assistance (Croatia, The Former Yugoslav Republic of Macedonia, Turkey, Albania, Bosnia and Herzegovina, Montenegro, Serbia, Kosovo)
- a student of art or architecture in one of the latter countries or territories, and under 30 years old at the time of the deadline for submitting materials (15 June 2008)
Jury
- Dima Akkad Tourekmani
- Ghassan Khouri
- Irene Labeyrie
- Mustafa Ali
- Paolo Dall' Oglio
- Rafee Hakky
- Wael Samhouri
- Representative from COSV
- Representative from Tanween Arabian Cultural Center
Awards

At least the top 20 entries will be exhibited at exhibitions in Damascus and Deir Mar Musa's Visitors' Centre. Winners will get to present their concepts in a conference preceding the exhibition opening in Damascus. Competition organizers will do their best to get the exhibition to travel through European and Mediterranean countries.
The first three winners will be awarded 1.000 Dollars on the condition of spending the necessary amount of that money to attend the Damascus exhibition's opening conference. They will receive their prizes in Damascus afterwards.
Ideas presented through the competition will be used for inspiration to build an actual Sham Spiritual Oasis in Wadi Deir Mar Musa Protected Area's Visitor Center. If an idea is selected for implementation, the owner of the idea will be notified and credited. No contracting obligations are present.
Submission Requirements

- CD-ROM containing: A PDF file of your A0 print, Portrait format, with a minimum resolution of 300 DPI. Please write your name on the CD and have your registration number as the File Name of your print. Your written composition on the print should have Font Size 16 at least, and 400 words maximum per language.
- Additional Copies of the written compositions (in all languages used), Portrait Format, PDF Files, on A4 paper. Name your files using the registration number provided, then the name of the text's language (English, Arabic and third optional language)
- A copy of proof of eligibility (valid student card, passport, ID card, driving license).
- A completed official Competition Entry Form (link provided through this website).
Submitted materials should be sent by fully prepaid mail to the following address of COSV organization: Sham Spiritual Oasis Competition COSV Via Soperga n. 36 20127 Milano - Italy.
Or hand delivered to the monastery of Deir Mar Musa al-Habashi. The final date for receiving materials sent on the 15th of June is 30 June 2008. Please write "Not to be opened till deadline" in a clear way on your envelope. If you are sending materials as a professional, please indicate it on the envelope by writing the word "professional" next to "Sham Spiritual Oasis Competition."
It is the participant''s responsibility to verify submission, whether through having a signed confirmation of receipt from Deir Mar Musa's person in charge, or the receipt of sending materials via registered mail.
Disqualification
Entries shall be excluded from the competition if:
- They are sent by mail or received after deadlines set in this competition brief.
- They do not meet submission requirements.
- A participant discloses his or her identity to, or attempts to influence in any way the decision of the Jury.
The organizers attain the right to renounce any project considered inappropriate. By entering the competition, you accept that some parts of your drawn sketch or written composition might be cut out of if they are considered not acceptable in the local context. We will inform you if that applies to you, and if you chose not to approve that procedure, your work will not be exhibited and you will not win the competition.
Qualified participants will be notified through this website after submission deadline.
Competition Schedule
Questions deadline:
30 April 2008
Registration deadline:
15 May 2008
Submission deadline:
15 June 2008
Announcement of Competition Winners:
01 August 2008
First Exhibition in Damascus:
September 2008
Second Exhibition in Deir Mar Musa:
October 2008