Yarışma Sonuçları
Winner:
MOH Architects (Vienna)
Yarışma Bilgileri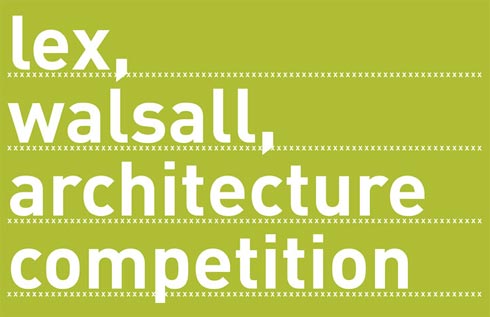 Walsall is changing. Things have happened. Things are happening.
Working with our partners Advantage West Midlands, Walsall Council and Walsall Regeneration Company, Urban Splash are already delivering Phase One of the Waterfront development just near The New Art Gallery - a collection of truly stunning buildings designed by SMC Alsop and shedkm which are set within a public realm designed by Grant Associates.
Urban Splash has now been invited to come up with plans for Phase Two, the Lex site. This is where we need a great architect to work with us to deliver yet more award winning buildings. It''s a real key site that''s sort of triangular in shape and bordered on two sides by canals.
The design may include a hotel, conference facilities, flexible leisure, performance space, great public realm, apartments / houses, offices, bars / restaurants.
Eligibility
This is an RIBA international architecture competition and a notice has been placed in the European Journal (OJEU).
The competition is open to registered architects or designers in collaboration with other design disciplines.
Stage Two

The shortlisted designs will be displayed at Wharfingers Cottage, (adjacent to The New Art Gallery) for everyone who's interested to see - they'll all still be anonymous, but we hope to get some good feedback.
Stage Three
This will involve an interview with each shortlisted finalist, and will give our panel of judges the opportunity to interrogate the thinking, the ideas and the brilliance behind your designs. It will also give you the chance to sell the dream. It's our favourite bit.
Prizes
The judges will shortlist up to six proposals. The finalists will be invited for an interview and each will receive 3.000 Pounds +VAT honorarium. One winner will work with Urban Splash to deliver the scheme.
Jury

- Glenn Howells (Architect, GHA)
- Will Alsop (Architect, SMC Alsop)
- Hazel Rounding (Architect, shedkm)
- Stuart Kirkwood (Director of Development, Advantage West Midlands)
- Paul Sheehan (Chief Executive, Walsall Council)
- Ben Reid (Chairman, Walsall Regeneration Company)
- Paul Spooner (Regional Director, Urban Splash)
- Tom Bloxham (Chairman, Urban Splash Group)
- Jonathan Falkingham (Chief Executive, Urban Splash Group)
- Nathan Cornish (Managing Director, Urban Splash Midlands Ltd.)
Submission Requirements
We're looking for three x A1 boards maximum - we can't accept models, but you could include photographs of models on the A1 boards if you like. The boards should include all descriptive text but we're not looking for War and Peace. We think the best ideas are the ones that are easily communicated.
We don't want you to put your names on the boards, everything needs to be anonymous at this stage. It will stop us from being swayed by the name badge - what we want is the best design! The judges will then choose a shortlist of up to six designs.
Entries must be accompanied by the official declaration form available from the RIBA Competitions Office. To receive this form please send a cheque for 35 Pounds made payable to "RIBA Competitions office".
The Phase One submission for each competitor is to be contained in a single package and is to be sent, carriage paid, addressed to:
RIBA Competitions Office 6 Melbourne Street Leeds LS2 7PS
Please ensure the package is clearly marked "LEX International Competition" and to arrive no later than noon on the 30 May 2008.
Design and accompanying material shall be sent without name, motto or distinguishing mark of any kind and should be accompanied by the completed "declaration form" provided by the RIBA. The RIBA will put a number on each drawing and envelope, and the envelopes will not be opened until the shortlist has been chosen.
Competition Schedule
23 May 2008:
Registration Deadline
30 May 2008:
Submission Deadline
23 June 2008
: Shortlist Announced
July 2008:
Shortlist Interviews
July / August 2008:
Winner Announced