Yarışma Sonuçları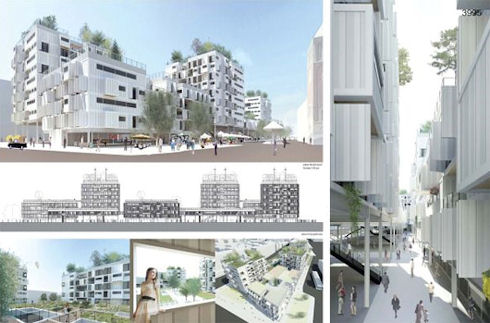 First Prize: Felix Heidgen, Thomas Nagy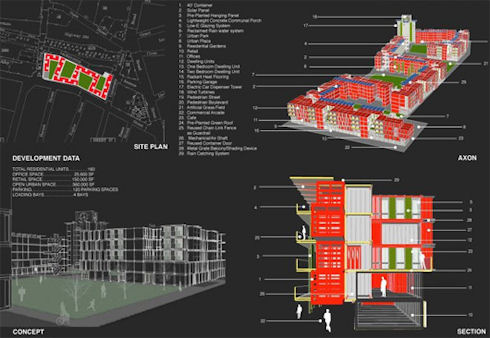 Second Prize: "Modulaire" Hugo Mijares, Tulio Lopez, Ricardo Hernandez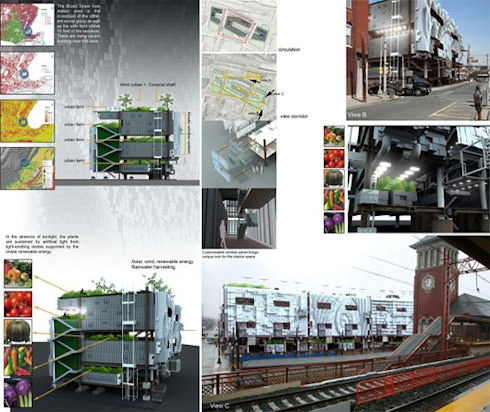 Third Prize: Tang & Yang Architects LLC.: Ming Tang, Dihua Yang

Honorable Mentions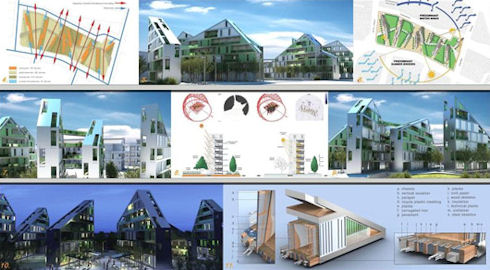 Giuseppe Mecca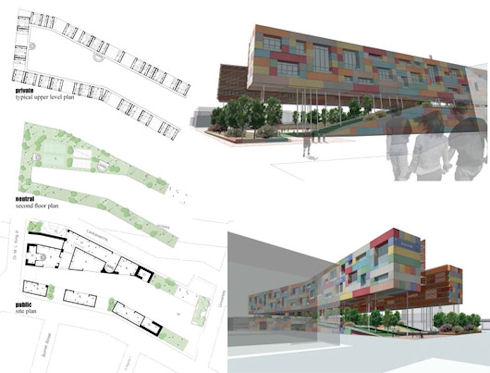 David Rooth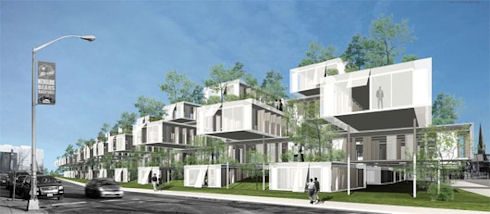 Patchara Wongboonsin, Ornnicha Duriyaprapan
Yarışma Bilgileri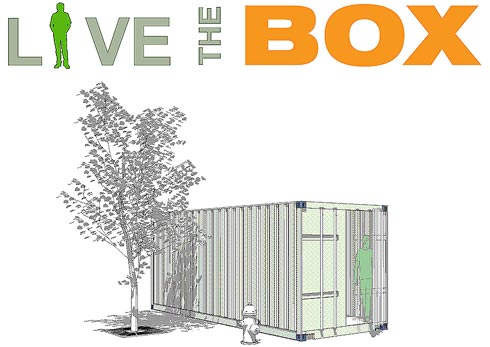 The partnership of AIA Newark and Suburban and the Young Architects Forum invites designers nationwide to find innovative, visionary and compelling proposals for container constructed multi-family mixed-use project.
Thousands of unwanted shipping containers clog our ports and the land around them. AIA Newark and Suburban challenges the nation's most innovative thinkers and designers to re-invent the box with their most inspired and creative utilizations of shipping containers as the primary construct of an urban multi-family mixed use project. The selected site is adjacent to a major train station and walking distance to the downtown major cultural centers of Newark, New Jersey.
Designs must utilize standard height shipping containers in either 20''-0" or 40''-0" nominal lengths as the main building block of the structure. These containers may be utilized in an configuration or quantity and may be cut or solid.
Registration

The Competitors are required to register for the competition prior to submitting their entries. In order to complete registration, competitors must submit a registration fee. The registration fee is 150 Dollars for professionals and 75 Dollars for students. The registration period for this competition is from 15 April 2008 to 31 July 2008.
Registration fee includes two entry tickets to the Awards Ceremony.
Registration fees can be paid on line by credit or debit card. All payments are final; registered Competitors who do not submit an enrty willl not be refunded.
Payment will occur through the AIANS and PayPal. Upon completion of online registration and payment, Competitors will receive a payment confirmation number, automatically generated byt he payment system, this is your registration number for the competition entry.
If you do not have access to the internet and would like to participate or if you have any questions, please contact the AIANS Design Competition Committee at
[email protected]
The AIA Newark & Suburban staff will make reasonable efforts, in its sole discretion to accommodate you.
Eligibility
The competition is open to all interested parties nationwide. Regardless of age, discipline, and professional status. Students are welcome and encouraged to enter. Entrants may submit work independently or as a group or through the instructor.
The following are exceptions to elgibility: The firms, professional partners and immediate family members of the Competition jurors.
Deadline

All submissions must be received by 31 July 2008, 17:00.
Prizes
First Prize:
10.000 Dollars
Second Prize:
7.000 Dollars
Third Prize:
3.000 Dollars
Honorable Mention:
1.000 Dollars
Jury
- Robert Dooley Jr. (Chief Architect of the City of Newark, New Jersey)
- Bill Flemming (Co-Chief Operating Officer at Skanska USA Building)
- Urs Gauchat (Dean of New Jersey School of Architecture, New Jersey Institute of Technology)
- Adam Kalkin
- Ray Nadaskay (FAIA, Principal Nadaskay Kopelson Architects)
- Corey Booker (Honorary Chair - Mayor of the City of Newark, New Jersey)
Anonymity
Submissions shall have no name or mark that in any way identify the project or competitor other than the registration number assigned to competitor upon completion of registration.
Presentation
Competitors shall submit two digital files for 40" x 40" boards, labeled A and B, that illustrate their project. Board A will be on the left and Board B will be on the right when presented to the jury. Each board must include entrant''s registration number in the upper right hand corner in plain black text on a white background or white text on black background.
Entries become property of AIA Newark and Suburban and will not be returned.
Requirements
All submissions must include the following:
- One plan of proposed design of the multi family mixed-use dwelling
- Two perspective views
- Cross-Section showing utilization of material
- Additional drawings and diagrams may be included to further illustrate proposals. Scale and placement of these drawings is at the discretion of each competitor.
- A text statement of no more than 250 words describing the project concept and design intent must be incorporated onto one of the boards. Statements should explicitly address the relationship between the multi-family, mixed use project and the context.
Files must be uploaded in the following formats:
- Two 40" x 40" PDF files, 300 dpi, 10MB maximum size for each file
(primary files for printing boards)
- Two 600 x 800 pixel JPEG files, 200 dpi, 1.5MB maximum size for each file
(files for online exhibition and publication)
- One 100 x 100 pixel JPEG file, 200 dpi, 50K max size
(image detail of your choice from either board for online thumbnail)
- One Microsoft Word compatible (.doc) file, 50K maximum size
(project description in 250 words or less)
For PDF files, graphics should be set to 300 dpi/ppi. If printing to PDF from Illustrator, for example, choose Effect -> Document Raster Effects Settings -> Resolution -> Other: 300 ppi. Note that to meet the file size requirements you may have to adjust your PDF software compression settings.
All files must be named with the registration number you received when you submitted your registration, followed by and underscore and A, B etc. For example, the files for registrant 0000 would be called:
Board A: 0000_A.pdf (large file), 0000_A.jpg (small file for web)
Board B: 0000_B.pdf (large file), 000_B.jpg (small file for web)
Other Files: 000_thunb.jpg, 0000_doc
Every file must include entrant''s registration number.
Competition Schedule
15 April 2008:
Competition Launch
24 June 2008:
Registration Deadline
08 July 2008:
Questions Deadline
15 July 2008:
Answers Posted
31 July 2008:
Submission Deadline
August 2008:
Jury Deliberation
Fall 2008:
Award Ceremony, Public Display of Winning Entries