Yarışma Sonuçları
Giuria Tecnica
First Prize:
Ismael Flores
Second Prize:
Ron Calabresi
Third Prize:
Stefano Giovannini
Giuria Critica
First Prize:
Luca Binaglia
Second Prize:
Ron Calabresi
Third Prize:
Stefano Giovannini
Yarışma Bilgileri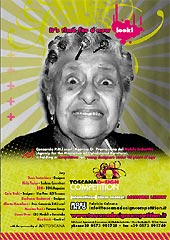 Consorzio P.M.I scarl, Agenzia Di Promozione del Mobile Imbottito (Agency for the Promotion of Upholstered Furniture), is holding a competition for young designers under 40 years of age.
For some years now we have been experiencing a phenomenon that can only be defined as "accessible luxury"; that is, a return to investment in tangible, traditional goods, with furnishings and the home in general taking first place. In line with this trend, the organizers are pleased to invite "under-40" designers and architects to participate in a conceptual competition addressing this interesting cultural and market reality.
The category includes numerous furnishing / decorating products, from the sofa, the principal point of reference, to an entire series of complements, from armchairs to rugs, from wall units to occasional furniture and tables to picture frames, lamps, etc. The salient project elements, beyond innovation, must be careful selection and attention to materials, finishings, color schemes, surfaces: all aspects that contribute to characterizing the concept of luxury, as called for by the competition theme statement.
Eligibility

Participation in the competition is open to subjects born subsequently to 01 January 1968 who meet the requirements set forth below:
- Italian and / or foreign designers, architects, and engineers duly registered with their respective professional associations, independent designers, and designers working in a subordinate capacity if duly authorized by their companies.
- Students enrolled at the Faculties of Architecture or Engineering or in a design institute. Teams of competitors from both categories may participate; in this case, the team must appoint a team leader who will be the sole person in charge and the referent for dealings with Consorzio PMI. Participation by members of the Jury, their family members, and employees of Consorzio PMI is expressly prohibited.
Prizes
First Prize:
5.000
Second Prize:
3.000
Third Prize:
2.000
The authors of the first 10 selected projects will be invited to visit the production district. The commission will select 50 designs for display at a special competition exhibition.
The projects submitted to the competition must be never before published and developed expressly for the competition. Any disputes concerning the originality of the projects shall be submitted to the Design Jury for settlement.
Jury
- Denis Santachiara (Designer)
- Philip Taylor (Fashion Consultant)
- DDN (DDN magazine)
- Carlo Bimbi (Designer, Vice-President of ADI Toscana)
- Gianfranco Gualtierotti (Designer)
- Alberto Mantellassi (Pres. Consorzio P.M.I scarl)
- Massimo Pucci (Piemme Group)
- Gianni Overi (CEO Mirabili e Formitalia)
- Elisa Gradi (Gradi srl)
Submission Requirements
For each project, the contestant/s must submit no. 2 or more plates (mounted on stiff backing), 50 x 70 cm in size, containing at least one technical drawing in an adequate scale illustrating the project as a whole and the construction details. Color may be used. Together with the plates, the contestant must submit a short report describing the project motivations and characteristics, including a description of the materials and any other data felt to be pertinent and useful; said report must be submitted in A4 format and must not exceed three single sides. Contestants are granted the faculty to illustrate their projects with other drawings or images, which must in any case be contained in the plates as described above or in the report. Each plate and the report must be marked with the identification code that will be sent to each participant by email after he/she has submitted the completed online registration form, available at the competition website. All the material submitted must also be copied onto a digital CD in .pdf and / or .jpg format.
Each participant must submit two sealed envelopes, with no distinguishing signs on the exterior except for the designations "Envelope A" and "Envelope B".
Envelope A must contain:
- the form containing the personal data of the project author/s;
- self-certification with attached copy of the participant's identification card guaranteeing under his/her own responsibility that the project submitted is an new, original work made by the participant him/herself and that said project in no way infringes on any prior author's rights;
- a statement granting the consortium the right of option, for the duration of one year from the date of the minutes of the jury, and the guaranteeing participant's commitment to assume responsibility for any consequences resulting from legal actions brought by third parties concerning the originality of the project/s.
Envelope B must contain:
- the technical project as explained in Art. 7 above, with indication of the identification code received by the participant by email following registration at
www.toscanadesigncompetition.it
All project material must be delivered in unmarked (anonymous) packaging, no later than 15 July 2008, 17:00 by postal delivery and/or courier service, with advice of receipt, to: P.M.I scarl Agenzia di Promozione del Mobile Imbottito P.za Garibaldi 5 - 51100 Pistoia.
The Competition Secretariat guarantees that project acceptance will be treated anonymously. Should delivery be made by means of carriers (postal service or private courier), the material must be sent by the above-mentioned date and time (as attested by the postmark or delivery note). Material arriving, due to shipping delays, later than 10 days from the date established for delivery cannot be accepted.