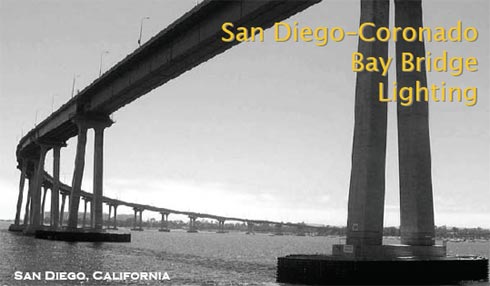 The Port of San Diego is seeking artist-led design teams to create environmentally-friendly lighting proposals for the San Diego-Coronado Bay Bridge. The intent of this project is to create a distinctive signature artwork: an iconic, artistic statement that will enliven the public environment. The artistic design should create a sense of place, draw people to the region, and withstand the test of time. The Port of San Diego is committed to providing sustainable development whenever feasible. Therefore, the artistic lighting must utilize the latest environmentally-friendly technology. Although there is no standard definition of "green" lighting, artist teams will be required to demonstrate how their proposal meets the goals of sustainability while achieving the objective of lighting the bridge artistically. A balance between artistic statement and energy resource conservation is envisioned.
The proposed design should strive to maximize energy efficiency and minimize net-energy use while demonstrating
unfettered artistic expression. To meet the efficiency objective of the proposed art statement, the project could include, but should not be limited to, the use of any or all of the following:
- High-efficiency lighting equipment
- Energy-conscious design
- On- or off-site renewable power generation
- Innovative energy use
Eligibility

This is an international project open to all professional artist-led design teams. Applicants must have demonstrated proficiency in large-scale collaborative lighting projects.
Project Goals
- Create a distinctive signature artwork for the region
- Draw people to the region
- Be considered an asset to the Port of San Diego and member cities
- Create a sense of arrival
- Create a sense of place
- Withstand the test of time
Selection Criteria

In response to this Call for Artists, the selection panel will review applicants based on the following criteria:
- Original vision, strong creativity, and sophisticated conceptual skills
- Technical competence and high-quality workmanship
- Experience creating successful artworks in the public realm
- Experience working with teams of architects, landscape architects, planners, engineers, etc. in designing projects with complex and technical parameters
- Understanding of, experience in, and ability to incorporate "green" materials, technologies and construction techniques
- Demonstrated interest in, and understanding of the project
- Demonstrated commitment to working with government agencies and community stakeholders
- High-level verbal, written, and visual communication skills
- Access to appropriate technology for communicating efficiently and effectively
Budget
The budget for this project is anticipated to be approximately 2 million to 3 million Dollars for design, fabrication and installation. The budget is allinclusive and must cover all project fees including, but not limited to, artist and consultant fees, materials and fabrication costs, installation, site-preparation, traffic control costs, legal fees, insurance, permit fees,
taxes, travel-related fees, and documentation of the project. The funding for this project is expected to come from grants and / or donations, which have not been secured to date. However, the Port of San Diego is committed to seeking project funding sources.
Submission Requirements
Submit digital images of your artwork on one CD or DVD Submit ten (10) images (per team) of your previous artwork. You may submit detail shots. Images will be viewed in pairs (1-2, 3-4, etc.) corresponding to the Image Identification List.
Images must be saved as PC compatible JPEG files on one CD-ROM or DVD clearly labeled with applicant's name and contact information. Do not insert images into a PowerPoint presentation. Format images to be 72 dpi resolution with a maximum pixel dimension of 1920 pixels. Image files must be less than 1.8MB each. Do not ZIP your files. Files must be saved in the correct vertical or horizontal orientation for viewing. All JPEG files should be clearly named with the artist's last name (underscore) first name (underscore) and 2-digit viewing order. (Example: smith_jane_09.jpg) For teams, you may use your team name. Example: lightart_10.jpg Please do not put the file name or artist's name directly onto your projected image.
Submit twenty (20) copies of an image identification list. Please provide an Image Identification List that corresponds to the numbering of your digital images. Include your complete contact information, image viewing order, digital file name, and pertinent information about each artwork/ project including budget, location, and owner or commissioning agency. Clearly identify the team members' responsibilities and roles for each project.
Submit twenty (20) copies of an artist / collaborative team statement. Please provide a brief 1 to 2-page typed statement describing your aesthetic and general approach to the San Diego-Coronado Bay Bridge project. The statement should include your approach to utilizing "green" technologies. A detailed proposal is not expected at this time.
Submit twenty (20) copies of a current résumé or bio. Each team member should include an individual résumé. Please limit individual résumés to two (2) pages maximum.
In addition, all written documents (image identification list, statement, and résumés) should be saved as PDF or Word document files and submitted on the same CD with digital images.
Collate twenty (20) sets of printed text materials. Each set includes, in the following order, an image identification list, a statement, and résumé(s).
- Image identification list (on top)
- Artist / collaborative team statement
- Résumé(s)
All printed materials should be submitted on 8 1/2" by 11" white bond paper with a standard 3-hole punch on the left
side. Do not staple or bind materials in any way. Separate each complete set of collated written materials with colored paper or post-it notes. Do not place your materials in individual folders or binders, or use decorative covers.
Include a self-addressed stamped postcard so the Port of San Diego can acknowledge receipt of your materials.
Submission
All submissions for the San Diego-Coronado Bay Bridge Lighting Call for Artists must be received by the Port of
San Diego's Public Art Department by 06 June 2008, 17:00. This is not a postmark deadline. All materials should be mailed or delivered (in one envelope) to:
(For U.S. Postal Service) Yvonne Wise San Diego Unified Port District Public Art Department Attn: San Diego-Coronado Bridge Lighting PO Box 120488 San Diego, CA 92112-0488
(For FedEx, UPS, Messenger, etc) Yvonne Wise San Diego Unified Port District Public Art Department Attn: San Diego-Coronado Bridge Lighting 3165 Pacific Highway San Diego, CA 92101-1128 619.400.4706
Selection Process
Phase One
Submissions to this Call for Artists will be reviewed by a selection panel. Members of the panel will include arts professionals, community representatives, and project stakeholders. The selection panel will recommend a short-list of semi-finalists based on the selection criteria. Up to 5 selected artists / teams will be invited to the Phase Two screening process. The selection panel reserves the right to change the number of semi-finalists and/or decide that none of the applicants will proceed to Phase Two.
Phase Two

Semi-finalists will be required to develop a detailed proposal to present to the selection panel. Drawings and detailed information about the site will be provided to these artists. Semi-finalists will be required to come to San Diego, California and present their detailed design proposals to the selection panel and the community. A design stipend of approximately 12.000 - 15.000 Dollars will be awarded to each artistic team. The stipend must cover all expenses incurred during this phase, including design fees, research, accommodations and travel. Semi-finalists are required to work with the Port of San Diego and project stakeholders to ensure the integration of their design into the existing structure of the San Diego-Coronado Bay Bridge. Proposals will need to comply with all regulatory committees,agencies, boards and policies. Specific project information about Phase Two will be supplied to semi-finalists.
Notification of Results
Selected project semi-finalists will be posted on the Port of San Diego's website in July 2008. Please do not call or email the Port of San Diego for results.
Schedule
06 June 2008:
Submission Deadline
July 2008:
Notification of Semi-Finalists
October 2008:
Semi-Finalist Design Phase August
November 2008:
Semi-Finalist Presentations
December 2008
: Finalist Notified