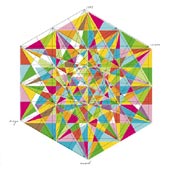 Kokuyo Co., Ltd. organizes The 7th Kokuyo Design Award.
Theme of The Competition
Carbon
The carbon in our bodies can account for as much as 20% of our body weight. Excluding water, carbon makes up more than one-half of the composition of our body.
The earth was once covered in carbon dioxide. The first living creatures used the power of the sun to form their bodies from this massive amount of carbon. Plants continued this method, and today we live amid carbon that has accumulated since prehistoric times. Many of the natural materials we use every day are compounds of carbon; wood, paper, cloth, leather, and plastics made from fossil fuels such as petroleum and coal. Creatures ingested carbon from the atmosphere to make these natural materials.
We also use a wide range of materials formed exclusively from carbon, such as diamonds, pencil lead, carbon fibers, and the toner used in copy machines. New materials such as carbon nanotubes are also attracting attention.
The theme of this competition is carbon - a building block of life. This does not mean we are looking solely for charcoal designs. All materials containing carbon - such as paper, cloth, various plastic products, wood, and gas or gasoline?are acceptable. Please try designing a lifestyle that incorporate carbon, thinking about where the carbon came from and where it will go after use.
Prizes
Grand Prize:
2 million Yens
Second Prize (4 winners, each):
500.000 Yens
Special Prize (5 winners, each):
100.000 Yens
Each award is determined regardless of category. Some awards may not be granted.
Eligibility
This competition is open to all individuals, groups, businesses or organizations regardless of age, gender, occupation or nationality. Entries must not have been previously released elsewhere.
Number of entries is unlimited.
Jury
- Shunji Yamanaka (Jury Chair, Designer - President of Leading Edge Design)
- Oki Sato (Designer - President of nendo)
- Fumie Shibata (Industrial Designer - President of Studio S)
- Manabu Mizuno (Art Director - President of good design company)
- Akihiro Kuroda (President, Kokuyo Co., Ltd.)
Juding

Initial screening: Presentation sheet
Final screening: Presentation sheet + actual design model (Details of the final screening will be notified to the qualifiers of the initial screening)
Judging Criteria
Entries must:
- have the potential for a future commercial product.
- employ the genuine functions of the subject tools or products.
- inspire new design concepts.
- have the appeal of being customer-oriented and user-friendly.
- lead to the development of future materials or technologies.
Registration

Registration will be accepted until 31 May 2008.
Submission of Work
Send a submission form with a presentation sheet by mail to the award office by 30 June 2008. Those arriving after 30 June will be disqualified. (Photocopies of the original form are acceptable, but they should each be accompanied by your signature.) Works should be sent to: Kokuyo Design Award Office, Ueki Bldg. 4F 5-3-4 Ueno Taito-ku Tokyo 110-0005, Japan.
Initial Screening

- Work Submission Form
- Presentation sheets (original and duplicate): Express your work on a sheet of A3 paper (portrait, 297(W) × 420(H) mm).
Make sure that your work has all the following elements at the locations specified below.
- Title of the work: upper left
- General name of the object (for example, notebook, scissors, stool, folding chair etc.)" : under the "title of the work"
- Concept: upper right
- Overall rendering (3-dimensional CG, illustration, photo of model) : no location specified
- Three-side views: no location specified
- Size: no location specified
-Work label: bottom right corner on the reverse side.
Express yourself freely, but make sure to include the above elements.
Do not indicate personal data on the work.
Fill in a work label and paste it on the bottom right hand corner on the back of your presentation sheet.
Additional Sheet
If necessary, you may use one additional sheet of paper (portrait), for a total of two sheets of paper. Note that the information for the required elements must appear only on the first sheet, and not on the additional sheet.
*Works using more than two sheets will not be accepted.
For each work, send the original (for judging) and a duplicate (copy; photocopy acceptable) and send them to the award office by mail. Works should not be pasted on panels nor be packaged in rolled form.
Final Screening
Further details of the final screening will be notified to the qualifiers of the initial screening around mid August.
Models (Qualifiers of the initial screening only)
- Stationery (household items): Each model, as sent, must not exceed the total linear dimensions (length + width + height) of 100 cm and must not weigh more than 20 kg.
- Furniture (chair): A 1/5 scale model
- Applies to both stationery and furniture: Entrants must create works on their own without any support from the organizer.
All entrants will be given 30.000 Yen in production and shipment costs. Works will not be returned after entry.
Competition Schedule
01 April 2008 - 31 May 2008:
Registration Period
01 April 2008 - 30 June 2008:
Submission Period
End of July 2008:
Initial Screening
Mid September 2008:
Final Screening
Mid October 2008:
Winners notified and announced