Yarışma Sonuçları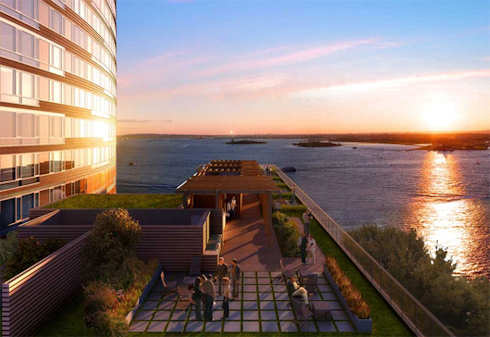 "The Visionaire", Pelli Clarke Pelli Architects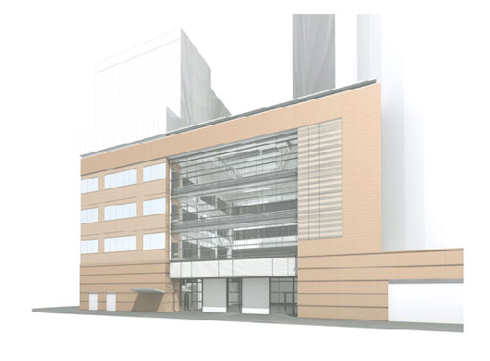 "Battery Park City Conservancy's maintenance facility", Dattner Architects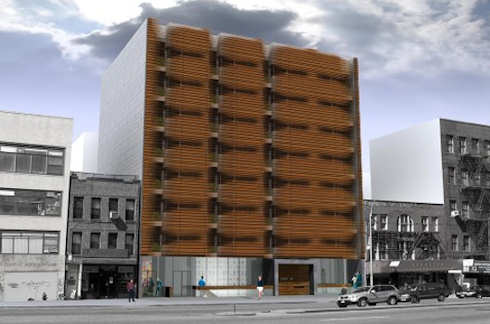 "The Bowery Hotel 250 Bowery Street", FLANK Architects
Yarışma Bilgileri

The City of New York (the City) and the United States Environmental Protection Agency (EPA) Region 2 are pleased to co-sponsor the third Green Building Competition for New York City. This national competition attracts professionals and students from across the field to present their innovative green building design projects and ideas for New York City. As a pre-eminent urban center, the City of New York provides the ideal venue to showcase the world's green buildings.
The Theme: Integration
This year's theme "Integration" sets New York apart from other urban centers. Not only is New York City the heart of the design and construction industry but it stands out as a cultural and sustainable epicenter. Therefore, the competition seeks out projects and proposals epitomizing fully integrated, sustainable buildings that assimilate the surrounding community. The competition aims to highlight and showcase building projects that educate and inspire design excellence around aesthetically pleasing green building practices, and:
- Integrate Construction: Projects that utilize whole building design principles to optimize utilization of material, natural and financial resources
- Integrate Occupancy: Projects that incorporate post occupancy concerns into the project's overall objectives
- Integrate Community: Projects that incorporate green buildings into the existing landscape and fabric of the community, highlighting environmental, economic, and social contributions.
The Vision: High-Performance Design
The City and EPA envision building green as the standard practice in construction, demolition and rehabilitation projects across the nation with New York City as the showcase. The Solaire, the first green residential high-rise in the world, opened in 2003 in Lower Manhattan and numerous projects have begun or completed construction (e.g., the new Bank of America building at One Bryant Park, the Queens Botanical Garden in Flushing, and the second, third and fourth green residential high-rises in Battery Park City). Some of the most recent green buildings have moved beyond function to incorporate complex designs and architectural excellence, as realized by the Bronx Zoo's Lion House, a landmarked building. In a city like New York, design is fundamental and the City and EPA continue to encourage projects that achieve outstanding creative design and environmental excellence.
Awards
There will be one award for overall design excellence. In each category, awards will be given at the jurors' discretion.
Winning participants will be contacted and required to develop a poster, at their expense, to illustrate their project. Posters, and all other materials submitted, will be used for display. Posters must be 28" by 40", horizontal or vertical. Submission address and directions and media preference will be determined in March. Additionally, the ideas identified in each submission will be used to advance the promotion and integration of green building principles into the New York City building arena.
Jury Members
- Helena Durst (Assistant Vice President, Durst Organization)
- Robert F. Fox, Jr. (Partner, Cook+Fox Architects)
- Charles Griffith (Co-Chair, Committee on the Environment, NYC Chapter AIA, Polshek Partnership Architects, LLP, Associate Partner)
- Susan Kaplan (Vice Chair, Executive Board, NY Chapter USGBC, Hugh L. Carey Battery Park City Authority)
- Laurie Kerr (Senior Policy Advisor on Green Building and Energy, New York City Mayor's Office of Long-Term Planning and Sustainability)
- Jennifer Ward Souder (Director of Capital Projects, Queens Botanical Garden)
- Jessica Strauss (Co-Chair, Committee on the Environment, NYC Chapter AIA, NYC Chapter Steel Leaf LLC, Principal; NYC Chapter Yale School of Management)
- Meg Walker (Vice President, Project for Public Spaces)
- Claire Weisz (Founding Principal, Weisz + Yoes Architecture; Board Member, Design Trust for Public Space)
Depending on the number of submissions, there may be additional jurors.
Eligibility
This is an open national competition that encourages artists, architects, community members, environmental designers, landscape architects and urban designers, both individuals and teams, to submit proposals.
Projects
Projects must be classified in one of the three following categories:
Built
This category is for projects that have completed construction/renovation and successfully incorporated an exemplary palette of green building strategies into beautiful designs. Projects must be completed by the date of submission, January, 2008.
Design/Construction Project
Due to the recent expansion of the green building market within New York City, this category seeks submissions of projects that are in final stages of design or that are currently under construction. These submissions should include thoughtful schematic designs and development documents
Conceptual Design
To continue the push for innovative solutions and ideas, this category seeks submissions of projects that are strictly conceptual designs. These projects must include thoughtful schematic design and development documents. All designs must address a specific site and its conditions, combining exemplary green building components and aesthetics to best serve the needs of the site and surrounding community. For all categories, only projects built in or designed for a specific site within the five boroughs of New York City will be accepted.
Submission

Applicants must submit projects electronically in Adobe Acrobat Reader format (pdf) to
[email protected]
and
[email protected]
Within 5 days of sending your project you will receive an email confirmation of your submission. Submissions must be received by C.O.B. 16 May 2008 to be considered. For more information contact either Holly Ensign-Barstow, Mayor's Office of Long Term Planning and Sustainability, at (212) 788-1424 or by e-mail at
[email protected]
or Heather Barnhart, EPA Region 2, at (212) 637-4971 or by email at
[email protected]
.
Submission Requirements
Applicants must submit projects electronically in Adobe Acrobat Reader format (pdf) to
[email protected]
and
[email protected]
.
Each submission must include:
- Cover Page (One page): Includes the project name and category. Please do not include personal names, firm or organizational affiliations on this sheet.
- Project Abstract (Two pages): Briefly describe the project, including if it is new construction or rehabilitation; the estimated or actual cost of the project (if applicable); a brief statement that describes the overall vision for the project (including project site location, size in square feet, and program); a summary of the site, size, and vision. The overview should also describe how this vision is realized in the design solution for the project, including a brief description detailing how the project addresses or incorporates (or will address or incorporate) the three layers and scales of integration: building, occupants and community.
- Design Criteria Description (Ten pages or less): Present a more detailed project description of the design and construction processes. This written analysis should describe how the building incorporates (or will incorporate) each of the design criteria topics (site, energy, water, materials, indoor air quality, and process) in the planning, design, procurement, demolition, construction, and operation of the building. The topics should be clearly labeled followed by a brief description addressing each of the topics' criteria. The analysis should include a description of any new innovative technologies. When possible, quantify the resulting resource savings (e.g. energy use, water use, construction costs).
- Design Materials (Eleven pages or less): The materials include a site plan (showing immediate surroundings/community where applicable), floor plans, elevations and sections, site photographs of the completed projects, 3D renderings, as necessary, to fully describe the building along with more detailed drawings, if desired, to highlight green aspects of building components. All plans should include a North arrow to allow an understanding of solar access and other climate considerations. The design materials should be no more than 11 pages maximum. Please, no models.
- Contact Information (One page): Include the project name, category, and contact information (name, address, phone, fax, email) and which of the three categories your project falls under. Submissions may not exceed 25 pages. Please, no models. If submissions fail to include all submission requirements, they will not be considered for the competition.
Design Criteria
Site

- Redevelop a brownfield or reuse an existing building structure.
- Incorporate the site's historical, cultural, and natural attributes into building project design through restoration, protection and/or conservation.
- Provide access to public transportation and/or facilities for less polluting
means of transport (carpooling, bicycling, electric cars).
- Utilize site specific landscape designs, featuring restorative and selfsustaining features that support existing habitats or reintroduce habitats/systems that once existed on the site.
- Mitigate urban heat island effect (vegetative roofs, high albedo roofing and
paving materials).
- Develop and implement a site protection plan prior to construction in order to protect, rescue or salvage top soil and trees / vegetation; mitigate dust, smoke, noise, odors; and control wastewater runoff.
Energy
- Reduce energy consumption by integrating the site's physical features and microclimate into the building's design (solar access, wind patterns, natural vegetation, topographic features)
- Optimize buildings energy performance. Specifically, demonstrate achievement of EPA's Energy Star for Buildings or equivalent
- Produce on-site renewable power
- Purchase green power
Water
- Reduce or eliminate the use of potable water for landscape irrigation and other uses the do not require potable, water—including, but not limited to, water features, equipment washing, and toilet flushing
- Safeguard water quality
- Implement water conservation design features (water-conserving fixtures, grey water system)
- Reduce storm water runoff from site, roof, building surfaces
Materials

- Optimize construction and deconstruction waste minimization and recycling efforts
- Provide facilities for the storage and collection of recyclables
- Incorporate materials that are resource efficient (recycled content, reused materials, easily reusable and/or easily recycled matierials)
- Incorporate materials with reduced life cycle impacts ( low embodied energy, sustainably harvested or rapidly renewable, locally extracted and manufactured, biodegradable upon disposal)
Indoor Air Quality (IAQ)
- Incorporate low-emitting materials (adhesives and sealants, paints and coatings, carpet systems, composite wood and agrifiber products)
- Maximize daylight and views (glazing, solar access, dimmers, monitors, atria).
- Increase and monitor outside air ventilation.
- Develop and implement an Indoor Air Quality Management Plan for the construction, pre-occupancy and occupancy phases of the building to reduce contaminants.
- Promote controllability of systems (lighting and thermal comfort).
Process

- Incorporate of site selection, site planning, and building design into a larger master plan
- Be creative in process, design and innovation (public participation).
- Educate the public about green concepts, efficiencies and materials through exhibits, artwork or building design.
- Provide comprehensive training and education for clients, operations and management staff and occupants to maintain building systems and function.
- Optimize space and resources by designing for the "right size" and future adaptability.
- Incorporate and expose natural systems or materials to build upon biophilia principles in buildings.
Judging
The panel of expert jurors will base their decisions on the following:
- How well the project fulfills the design criteria stated above.
- How well the project integrates the environmental, economic and social aspects of the site, building occupants, and the community.
- How well the project contributes to the aesthetic quality of the community.
- The extent to which any new and innovative planning, design, procurement, demolition, construction, or operational techniques were incorporated into the project.
- Overall design excellence.
Schedule
10 April 2008:
Announcement of Competition
30 May 2008:
Deadline for Submissions
June 2008:
Judging will occur over a four-week period.
July 2008:
The winners in each category will be contacted to develop a poster.
August / September 2008:
Announcement of winners / display of all projects.