Yarışma Sonuçları
First Prize
(Scholarship covering the 75% of the tuition fee)
Luisa Mireya Juàrez Carbajal, Honduras
Second and Third Prizes
(Scholarships covering the 50% of the tuition fee)
Chiara Buzzi, Italy
Hicran Ergen, Turkey
Yarışma Bilgileri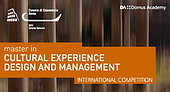 IRFI, the entrepreneurial training agency of the Rome Chamber of Commerce, announces a merit competition awarding 3 scholarships - one covering the 75% and two covering the 50% of the tuition fee - for the Master in Cultural Experience Design and Management of Domus Academy and IRFI academic year 2008 / 2009.
MED has the objective to train designers-managers designing tools for fruition and communication, organising and managing experiences, by proposing new and technologically advanced modalities to enhance the cultural goods and to support the tourist flow towards places and events.
In this framework, the designers-managers will also acquire the skills to create new cultural meanings for the recently industrially developed cities, reproducing part of the Roman models in their own realities. The designers-managers will be able to work as freelance or else within institutions, both private and public companies. They will have the knowledge and the skill to propose cultural goods in an active way, building valuable experiences, both for the users and for enterprises and institutions.
The Competition is open to candidates graduating in:
- Architecture
- Art History
- Cultural Heritage Protection
- Communication Sciences
- Industrial Design
- Economics
- Fine Arts
- Public Relations
- School of Art
- Professionals with working experience in the design or in the management of cultural events
Experience Design is the area of project that characterises MED. It is a learning pathway based on the multi-disciplinary approach typical of design, consisting of knowledge and operational methodologies able to develop the design skills within the highlighted field, the cultural one. It is made of 5 workshops that will be developed during the whole in-house training period. The workshops focus on relevant aspects of the cultural experience and develop projects related to the main moments of an ideal cultural journey.
The registration form together with the requested documents must be sent within 11 July 2008 to the attention of Chiara Vitale (Fax Number: +39 06 8552353, email:
[email protected]
and
[email protected]
).
MED will train people to become designers and manager of cultural experiences - professionals able to give back the proper value to the artistic and cultural patrimony combining communication and design skills with management abilities.
With its priceless historical and artistic heritage, with the recent flourishing of projects and contemporary architectures, with its network of cultural institutions, academies and international relations, as well as with its bent for services, cinematographic production and tourism, Rome represents the natural space for the Master course in Cultural Experience Design and Management.