Yarışma Sonuçları
First Prize:
"Hotel Terrace. Universal Space", Maxim Bataev (St. Petersberg, Russia)
The Runners Up

"Take Your Time Please, Play & Try", Simonetta Rossetti & Thomas Bisiani (Italy)
"Dunes / Caves", Kostas Poulopoulos (Greece)
"Architecture by Fiction", Johan Ericsson, Felicia Guldberg, Andreas Eklund (Sweden)
Yarışma Bilgileri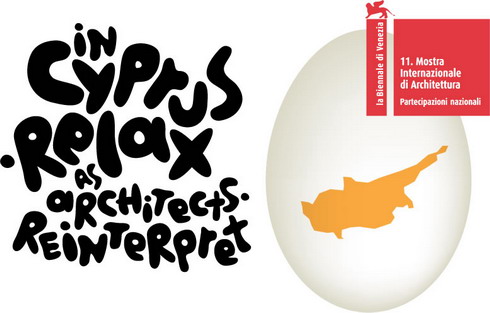 The theme of the Cypriot Exhibit at the Venice Biennale is that of "Relaxation" - a primary activity in Cyprus. Related to the general theme of this year's Biennale, which is "Beyond Architecture".
So we ask participating architects to go beyond their normal limits and "Reinterpret". Architects and Architectural students from all countries are invited to compete by submitting a project that responds by attempting to reinterpret one, or a combination, of the eight topics listed below. There should be an attempt to reference them to the conditions of the Island of Cyprus. Selection will be on the basis of originality, ingenuity, wit and elegance as well as general appropriateness.
The language of the competition will be English.
Project Themes
1. The Beach and its provisions
2. Agro Tourism
3. The Coffee House and Public Open Space
4. Cyprus - The Love Island
5. The Contemplation of The Historic Object
6. The Souvenir Shop
7. The Boring Hotel Terrace
8. The Limitations of "Meze & Wine" Establishments
Submissions
Participants need to submit a digital file / image of 2376x3360 portrait or landscape of their project. This should be in Jpeg format. The competitors shall name this digital file with a 6 digit code that can contain letters or numbers. The project should be mailed or delivered by courier in an A4 envelope to the mailing address and should contain the following:
- A CD with the entry file in Jpeg format. Written on the front of the CD should be the 6 digit code and a title of the project (which can refer to the subject(s) chosen).
- A sealed envelope #10 with all contact details, name, address, e-mail and phone number. On the front of this envelope should be the 6 digit code chosen by the competitor.
The mailing address: Cyprus Architects Association 24 Stasicratous str., 2nd floor, office 202, 1065 Nicosia Cyprus
Jury:
Chaired buy Peter Cook with Massimiliano Fuksas and Odile Decq.
Submission Deadline:
28 July 2008
Winners Announced:
04 August 2008
The selected winner will be expected to develop the submission proposal during the 3 weeks following the 4th August selection announcement.
The final presentation will be exhibited in Venice within the Cyprus Biennale Pavillion.
Awards
First Prize:
3000 Euros
2000 Euros will be divided amongst the runners-up.