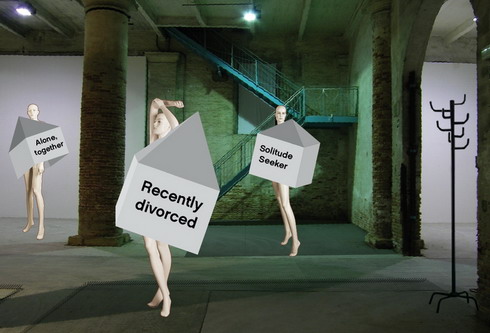 Curator Aaron Betsky invited Droog to participate in the Architectural Biennale in Venice, from 14 September to 23 November 2008. Teaming up with Dutch communication agency KesselsKramer, we've developed Singletown.
Singletown is a unique event focusing on the world of contemporary singles. Its relevance is broad, as all of us are likely to belong to this group at some stage- and more than once. In fact, some sources predict that a third of people in developed countries will be living alone by 2026.
Singletown is an exhibition that''s also a town, an abstract interpretation of a new kind of urban space. Visitors will be able to walk its streets and interact with its products and citizens, and view their homes.

This last part is where we''d like your help. We''d like you to sketch a house for a single of the near future. We have eight very different briefs for eight very different singles. Please choose from the list below, and create a housing concept for the person described. Attention will be payed to how the proposal responds to the theme of autonomy & contact-- singles are autonomous, but are also in need of contact.

The Independent Widow
75-year-old woman who has recently lost her husband. She chooses to live alone as the thought of communal senior living doesn't appeal. She's recently adopted Skype as a means of getting in touch with her kids.

Global Opportunist
26-year-old recent bachelor level graduate from Singapore. Planning to study a Masters program but not sure yet.
Recently Divorced
45-year-old man with two children who now live with their mother. They are very important to him and stay with him whenever they want.

Air-Bound
21-year-old flight attendant spending more and more time in foreign cities than in her home town. Despite her passion for traveling, seeing family and a social network is important.

Solitude Seeker
28-year-old introvert. Believes that humans are at their best when not in a herd. Enjoys solitude in many aspects of life- career, home, and on weekend mountaineering trips.

Once a Mom
47-year-old mom. She's raised three kids by herself, all of whom are now at university. A little daunted by the free time that''s available to her.

100+K exec
58-year-old executive making more than 100 grand a year, spends about a quarter of her time traveling for business... and also to see her daughter at her second home in Sweden.
Alone, Together
42-year-old living in a room within a shared house, together with other working professionals. Never feels alone as communal routines like cooking and cleaning keep him socialized.

One submission will be selected for each citizen, and incorporated into a model to be worn by the citizen at the SINGLETOWN exhibition at the Architectural Biennale, and potentially at other SINGLETOWN venues, such as the droog at home gallery in Amsterdam. Your name will be mentioned at the presentation. Multiple entries allowed.

Eligibility
The competition is open to anyone with interesting and challenging ideas for housing any of the nine citizens of Singletown.

The Process
Out of all the entries, Droog & KesselsKramer will select one design proposal for each citizen, as they think is most suitable. Multiple submissions are allowed. The selected concepts will be incorporated into house models for the exhibition. The selected proposals will be presented to the public at the Architectural Biennale in Venice, from September 14 to November 23, 2008. Droog & KesselsKramer obtain the right to exhibit the proposals at the droog-at-home
gallery and at other possible venues. Droog & KesselsKramer obtain the right to publish the proposals.

Schedule
23 June 2008: Deadline for entries
26 June 2008: Selection Droog & KesselsKramer

Submission
Send in via e-mail to: The sketches, maquette photos, description and the contact details of the participators of the proposal shuld be send in digital form via e-mail to [email protected]

Please send the entry form, conditions of entry and the copyright assignment, all signed, to: Droog Design, attn. Agata Jaworska, Staalstraat 7a, 1011 JJ Amsterdam, stating "Singletown competition" on the envelope.

You are requested to sign the competition entry form, conditions of entry and the copyright assignment in order to be able to take part in this competition.
Konuyla İlgili Linkler