Yarışma Sonuçları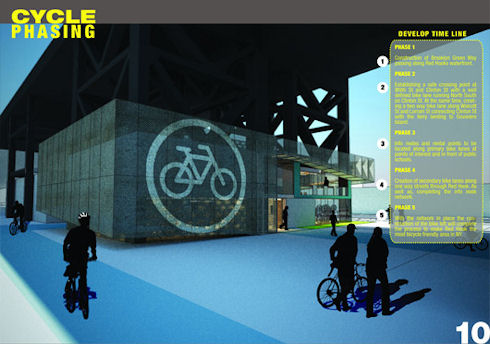 First Prize:
Morcillo + Pallares Arquitectos / Jonathan Rule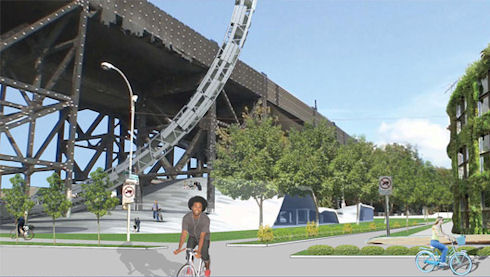 Second Prize:
HOK Sport
Yarışma Bilgileri

The Red Hook Bicycle Master Plan Design Competition, sponsored by The Forum for Urban Design consists of three parts:
Architecture:
Bicycle garage or "loft," located near the Smith/9th Street Train Station
Urban Planning / Design:
Dedicated bike lane plan connecting Red Hook to the garage, nearby neighborhoods,
the Brooklyn Waterfront Greenway, and other destinations
Development:
Feasibility study (funding possibilities, development timeline, possible public-nonprofit-private partnerships, etc.)
Program Statement
Located in the southeast corner of Brooklyn, Red Hook is the only neighborhood close to Manhattan that is underserved by public transportation. One train station at Smith/9th Streets in nearby Carroll Gardens is a mile from the heart of Red Hook, which is otherwise served by two bus lines and a Water Taxi that goes to Wall Street (but only in the summer months). Because transportation options are limited, Red Hook residents are unable to conveniently connect to the city around them and as a result, the neighborhood itself has experienced sporadic economic development.
The Forum for Urban Design is launching a design competition to re-imagine Red Hook as the most bicycle friendly neighborhood in all of New York. Not only could bicycling become the predominant method of transportation for neighborhood residents, it could become a destination for urban cyclists and foster sustainable development.
The design competition has three components: one emphasizing architecture, the second emphasizing urban planning and design, and the third emphasizing feasibility (i.e. funding sources). 1. retrofitting a bike garage (or "loft") at the Smith/9th Street Station, and 2. connecting this elevated train stop to the rest of the neighborhood via dedicated bike lanes and other bike amenities, 3. identifying funding sources such as the reauthorization of federal surface transportation legislation, foundations, and commercial sponsors.
The immediate goal of this project is to make Red Hook more accessible for local commuters and safer for local recreational cyclists; however, the greater vision is to spur sustainable economic development by attracting cyclists from around New York City to enjoy the Red Hook waterfront and other neighborhood treasures. Additionally, by focusing on the Smith/9th Street Station, we hope to encourage MTA to think about how they can rehabilitate it in a way that facilitates other methods of transportation.
The Red Hook Bicycle Design Competition was presented to the transportation committee of Brooklyn Community Board 6, which endorsed it on 17 April 2008. It was approved by the full community board on 14 May.
Part 1: The Bike Garage or "Loft"
Fear of theft is one of the main reasons that people do not ride bikes in urban areas. In fact, New York is consistently rated by Kryptonite, a leading lock manufacturer, as one of the worst cities for bicycle theft. There are so many factors involved in judging what constitutes a "secure" site (including making sure that the object to which you're attaching your bike is virtually indestructible, located in a well-lit and heavily trafficked area, and utilized by many other bikes) that very few places or objects, including racks installed by the city, meet them.
Bicycle garages -as evidenced by those currently in use in cities across the country including Berkeley, Chicago, Santa Barbara, and Seattle- are a more permanent and secure solution than the metal "U" racks currently in service throughout New York City. These garages serve not only as parking facilities, but also as hubs of bicycle-related activity. For Chicago's bike garage, click here. For others run by Bike Station, click here.
The proposed site for the Red Hook garage, or Bike Loft, is near the Smith/9th Street Station, which is slated for a fifteen-month long renovation starting in 2010. We are currently working with MTA to determine an appropriate spot to locate the garage and will have details shortly. The station itself, located 91 feet above street level, is the tallest elevated station in the subway system. Part of the competition will be proposing ways to make it easier to get bicycles in and out of the station, taking the entrance, escalators, stairs, etc. into consideration.
For the garage / loft itself:
- It must have a capacity of at least 100 bikes.
- It must be accessible to anyone who wishes to use it 24 hours a day, 7 days a week.
- It must be an environment in which parked bikes are secured from theft and shielded from the elements.
Part 2: The Plan
In order for the Bike Loft to have an impact beyond the train station, dedicated bike lanes and routes are also necessary, as well as other bike amenities (such as flat-fixing stations strategically located around Red Hook). It is not enough to build a depot that is inaccessible to those wishing to depart from it and a dead end for those who venture there. There must be routes provided so that both native and visiting cyclists can navigate the neighborhood safely.
Lanes should be placed on practical commuting routes as well as popular recreation routes (to the Red Hook Ball Fields, Fairway, etc.). Many of the streets in Red Hook are one-way and thus ideally suited to bike lanes. However, there are many other issues to contend with, such as cobble stone streets, truck routes, etc.
Participants must keep in mind that the main idea is "connectivity" and answer the question "how can Red Hook become more effectively connected to the surrounding area?" For example, plans to redevelop Governor's Island include a water taxi between the newly envisioned bicycle-friendly park and Atlantic Basin in Red Hook. Linking the train station to the ferry stop and on to Governor's Island would be one important example of connectivity. There are also plans well underway to developm the Brooklyn Waterfront Greenway (for more information about that, click here).
Submitters are encouraged to incorporate additional amenities (such as strategically place and innovatively designed locking and flat-fixing stations) into the street design.
Part 3: Feasibility

The Forum for Urban Design is an intentionally multi-disciplinary organization – including architects, planners and developers – based on the notion that great urban design projects result from meaningful collaborations. Without funding, nothing gets built. Entrants with the most realistic funding sources will be given additional consideration.
Funding sources can include everything from federal, state and local governments and organizations, to foundations and nonprofits, to private sponsors. While commitments from any one source is unrealistic, identifying funders of similar projects and making a case for why they might fund this project will be considered.
A development timeline should also be included in the feasibility study.
Eligibility and Entrance Fees
Students:
Free (to register as a student you much be enrolled at a school, college or university at the time of the competition announcement)
Individuals
: 50 Dollars
Teams:
100 Dollars
Submission Requirements

- A maximum of ten (10) digital images - all in .jpg format, 300 dpi - plus a short (no more than 7 minute-long) video presentation burned to a CD (x8, one for each of the judges and one for the Forum).
- Written Statement (no more than 500 words)
- Submissions should be identified ONLY with their registration number, which they will receive upon registering for the competition.
- Finalists will be asked to submit their own materials for exhibition.
Finalist Exhibition Materials Requirements

Two 30x40" presentation boards, oriented horizontally; one showing the bike garage design and the other showing the street design. The boards should be 1/4" thick. Models are also welcome, but not required. These materials will be on display at the Brooklyn Waterfront Artists Coalition for five weeks, as well as the video.
Schedule
30 April 2008:
Announcement
01 July 2008:
Registration
29 August 2008:
Submission Deadline:
01 October 2008:
Finalists Announced
15 October 2008:
Display Material Deadline
25 October 2008:
Winners Announced at Brooklyn Waterfront Artists Coalition Event
Jury

- Alexandros Washburn (Chief of Urban Design, City of New York)
- Vishaan Chakrabarti (Vice President, Related Companies)
- Judith Kunoff (Chief Architect, New York City Transit)
- Jonathan Marvel (Principal, Rogers Marvel Architects)
- Aaron Naparstek, (Journalist and Community Organizer, Streetsblog)
- Philip Nobel (Architecture and Design Critic, Metropolis Magazine)
- Ryan Russo (Director of Pedestrian and Bicycle Programs, NYC DOT)
- Andrea White (Executive Director of Bikestation)
- Red Hook Resident
Prizes
Five Finalists, First Prize:
4.000 Dollars
The 4 Runners-Up:
1.000 Dollars
Crowd Favorite (To be voted on via website once finalists are chosen): 500 Dollars