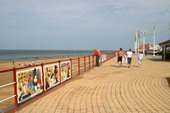 Redcar & Cleveland Borough Council, working in partnership with the Environment Agency, invites designers to prepare holistic design proposals for the regeneration of Redcar's Seafront Zone.
Eligibility
This two stage international design competition is open to all practising architects, landscape architects, town planners and urban designers. Students of the aforementioned design disciplines may only enter the competition as part of a team that includes an appropriately and fully qualified practising design professional. Inter-discipline collaboration is actively encouraged, as is the inclusion of the work of public artists.
Redcar is a seaside town situated on the bracing and beautiful coast of north-east England. The town is justifiably proud of its past, but now recognises the need for improvements to its public realm and amenities to ensure a dynamic future for residents and visitors alike. The seafront is a key spatial zone that will be at the heart of a resurgent town embracing change.
Designers are invited to engage and explore their creativity and generate:
- Design ideas for the public realm improvements associated with a proposed 14m Pounds coastal defence scheme. The 14m Pounds includes an allocation of 1m Pounds to provide a basic landscape treatment to mitigate the effects of the new sea wall, on top of which a further potential funding requirement of 4m Pounds has been identified to fulfil the aspirations of the Competition Brief. Designers should develop detailed designs for the "Key Activity Area" (~500m) identified on the Competition Zone Plan, as well as a complimentary strategy for the public realm works along the remaining length of the sea wall (~1000m) indicated. These should be capable of being developed within the overall 5m Pounds public realm works budget (inclusive of preliminaries, professional design fees and inflation, but excluding VAT). The proportional distribution of the 5m Pounds budget is left to the discretion of competitors.
- A coherent set of design ideas for the public highway, footpath, building facades and sites in the immediate "backdrop" zone (see Competition Zone Plan and Cross Section) to the sea front. There should be a clear synergy between these proposals and the public realm works associated with the new sea wall. They should aim to rejuvenate the appearance in a creative, coherent and cost effective way prior to any long term investment in the "backdrop" zone.
It is the intention that the winner will be commissioned to undertake the detailed design of the public realm works included within their entry, subject to the Environment Agency and Redcar & Cleveland Borough Council securing all of the necessary approvals to progress the scheme to the detailed design phase. The winner will be required to carry out this design in conjunction with the Environment Agency's lead designers for the engineering works. A planning application for the coast defence works is due to be submitted in the Summer and a business case for the project will be prepared in December 2008 with the proposed implementation date between 2010 and 2012. Development of the 'backdrop' zone proposals would be the subject of a separate and additional funding package being developed by Redcar & Cleveland Borough Council. The Council is planning to commission economic investment master planning work covering the main centres of the borough. Redcar would be the focus of initial investment master planning activity. It is anticipated that ideas arising from the competition for the 'backdrop' zone will be embraced as part of the investment master planning approach for Redcar.
The winner will need to demonstrate an empathy, realism and overall understanding of the commissioning clients' expectations and abilities.
Public Consultation:
A Consultation Event is scheduled to be held in early / Mid July.
Registration
You may only submit an entry to the Redcar Seafront Competition if you are officially registered through the RIBA Competitions Office.
Competitors should complete the Registration and Declaration form and return it along with their remittance for 25 Pounds (non-refundable) to: Redcar Seafront Competition RIBA Competitions Office 6 Melbourne Street, Leeds LS2 7PS
Cheques (in GBP) should be made payable to 'RIBA', or please contact the Competitions Office for alternative payment options. On receipt of the Declaration Form and registration fee, each competitor will be issued with a unique entry reference number and the supporting DWG files. Please note that registrations will close on 20 August 2008 and the deadline for receipt of design submissions is 14:00 on 27 August 2008.
Jury
-
Cllr. Sheelagh Clarke, Redcar & Cleveland Borough Council (Deputy Leader & Portfolio Holder for Leisure, Culture & Tourism)
- Cllr. Irene Curr, Redcar & Cleveland Borough Council (Elected member, Coatham Ward)
- Cllr. Josie Crawford, Redcar & Cleveland Borough Council (Elected member, Coatham Ward)
- Ged Demoily, Redcar & Cleveland Borough Council (Head of Cultural & Tourism Services)
- Pat Denny, Chair of Redcar Business Association
- Cllr. George Dunning, Redcar & Cleveland Borough Council (Council Leader)
- Derek Gouldburn, Hartlepool Borough Council (Urban Programmes Manager)
- Alastair Howarth, One NorthEast Regional Development Agency (Regeneration Manager)
- Matthew Jarratt, Arts Council North East for Northern Architecture (Lead Officer)
- Glen Preedy, Redcar Town Centre Management Excecutive
- Paul Stainer, Environment Agency (Redcar Coastal Defence Scheme - Project Executive)
- Simon Warren, Director, Bauman Lyons Architects Ltd (RIBA Architect Adviser)
- Kirsteen Thomson, One NorthEast Regional Development Agency (Sustainable Development Manager)
- James Porter, RIBA Competitions Office (Competitions Officer)
Competition Schedule
01 July 2008:
Competition launch
Early / Mid July 2008:
Public consultation
22 July 2008:
Deadline for competitors to raise questions about the Competition Brief
01 August 2008:
Answers available to download from dedicated competition web site, together with document summarising community engagement consultation
20 August 2008:
Time limit for requesting to participate (registration deadline)
27 August 2008:
Stage One submission deadline
04 - 05 September 2008:
Jury Panel meets to select shortlist
08 September 2008:
Notification to short-listed teams
19 September 2008:
Feedback issued to short-listed teams
08 - 22 September 2008:
Anonymous public exhibition of short-listed submissions
06 October 2008:
Presentation of design proposals to Jury Panel
13 October 2008:
Short-listed teams notified of result
20 October 2008:
Announcement of result
Yarışma Şartnamesi
Yarışmanın şartnamesine ulaşmak için tıklayın.