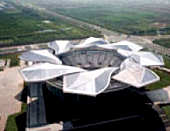 The Chicago Athenaeum: Museum of Architecture and Design in conjunction with Metropolitan Arts Press and the European Centre for Architecture, Art, Design, and Urban Studies, invite entries for The International Architecture Awards® - an Exhibition and Distinguished Building Awards Program for the Best New World Architecture for 2009.
The International Architecture Awards® gives an important overview of the current direction of today''s global commercial, corporate, institutional, and residential work to the real estate, banking, business, and corporate community, as well as to the international press and general public.
The International Architecture Awards® Exhibition and Distinguished Awards Program is dedicated to the recognition of Design Excellence in architecture produced around the world. The emphasis is on design innovation, engineering, use of new materials, and a sensitivity to the environment. We look forward to honoring the broad range of quality projects submitted this year.
Eligibility
All submissions must be the work of architects and architectural firms either working nationally or internationally for both projects in their own countries or abroad.
Criteria
The criteria for submissions includes any commercial, corporate, institutional, or residential interior, built or unbuilt, and designed, completed, or under construction as of 01 January 2005 to 2008.
Unbuilt projects are eligible only when a client is named. Building types and categories are: skyscrapers; corporate headquarters and office facilities; single and multi-family housing; retail, hospitality, institutional, health care, governmental, transportation, educational, and residential projects; as well as, interiors of any kind; including renovations and restoration; and urban planning projects. Buildings already awarded with "The International Architecture Award" are not eligible.
Exhibition / Awards
A jury of recognized business professionals, educators, and critics will review the submissions and select winning projects for Awards and for Exhibition. In Spring 2009, a public announcement of the Awards will be made officially to the press and to the public.
In addition to the Distinguished Building Awards, the Museum will mount an exhibition to honor the projects selected for their Design Excellence. Selected recipients will be required to prepare framed originals and models for the Exhibition. Architects, clients, developers, contractors, and structural engineers will be cited for their individual contributions.
Submission Deadline:
01 December 2008
Mailed submission requirements include the following:
The enclosed application form fully completed; fee; and one-page description (letter-format). On CD-ROM, four (4) to eight (8) photographs, site plans, floor plans, sections, and elevations. All images must be 300 dpi in JPEG and TIFF formats and no larger than 4-6 MB. Include a copy of the project description in MicroSoft Word.
Send these materials to: The European Centre for Architecture, Art, Design and Urban Studies. 28 Butlers Court, Sir John Rogerson''s Quay, Dublin 2, Ireland. Tel/Fax: +353/(0)1 6708781,
[email protected]