Yarışma Sonuçları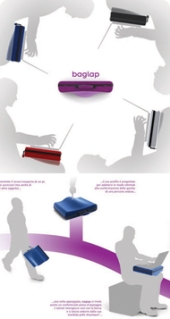 First Prize:
"Baglap", Francesco Marcellino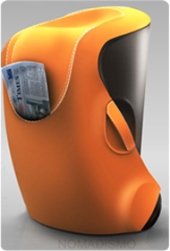 Second Prize:
"Ozio", I.DE.A. INSTITUTE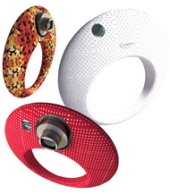 Third Prize:
"Reporter", Paolo Virgolini
Yarışma Bilgileri

There is a daily nomadism that affects everyone, consisting of travelling either long or short distances. Every day, when moving through the space separating us from the environments in which we study, work or spend our free time, we feel the need to take with us objects that represent and improve the quality of our time. Making each journey, however short, a unique experience.
We thought about this concept of nomadism and we decided to consult creative people, designers and anyone else interested in trying out new things, asking them to make each journey as extraordinary as possible.
The competition wants you to design extraordinary objects, elements and accessories that can be used, transported and utilized during those everyday activities which take place on a journey.
As well as those mentioned above, the criteria to follow are:
- To create and design an extraordinary accessory that can be touched or experienced every day whilst travelling, during a journey / transfer;
- To create and design an extraordinary accessory that is made using Alcantara® materials;
- To create and design an extraordinary accessory that perfectly embodies the four characteristics that demonstrate Alcantara®'s uniqueness:
- Sensoriality: shown through softness, comfort and warmth, which mean physical well-being.
- Aesthetics: shown through beauty and elegance, and therefore style.
- Functionality: made concrete in durability, breathability and easy care, which mean freedom of use.
- Exclusivity: referring to the lifestyle of those who love enjoying deeply the products they use every day.
Eligibility
Participation in the "Extraordinary, Every Day Travel Contest" is open to fashion designers, architects, designers and creative people in general, of all ages and nationalities.
Participation in the competition is anonymous, therefore:
- The parcel, the envelope and the works requested must not carry any identifying sign, symbol or writing,
- Only the identifying code must be given where indicated,
- Other symbols or writing on the design plans that can lead to identifying the author will lead to disqualification from the competition.
- Work groups can also take part in the competition. In this instance, the group has to nominate one component to be group leader responsible for the project.
- To all intents and purposes, a group of entrants will collectively enjoy the same rights as an individual entrant in this competition
To enter, please read the competition rules and fill out the on-line entry form on the alcantaralab.com website. After filling out the on-line form, you will receive an email containing the participation code together with a pdf file to be printed, filled out and signed (to be included in the parcel). The code certifies the participant's entry and identifies each project.

Submission
Each entrant can present one project: the works have to be exclusively for this competition and projects submitted to other competitions or which are already in production will not be accepted.

The proposals have to be placed in a sealed and anonymous parcel, with "Extraordinary, Every Day Travel Contest" and the entry code received via email written on the outside. Failure to comply will lead to disqualification.

The anonymous parcel will be placed inside an envelope addressed to Alcantara® Showroom, via Mecenate 86, 20138 Milan - Italy, bearing the sender's name.

The envelope will then be destroyed to ensure the entrant's anonymity.

The proposals can also be sent by hand during public opening hours, from Monday to Friday, between 10:00 - 18:00, or by authorised postal services and agencies.

Parcels sent have to be "carriage paid".

Projects received after 18:00 on Friday 31 October 2008 will not enter in competition.

In the case of parcels sent from abroad, the parcel must indicate a value for customs use only, which must not exceed that of the materials used.

Entrants are responsible for and pay for the delivery of the works. This is not the responsibility of the competition secretariat, who is employed by Alcantara® LAB to supervise the conservation of the competition acts and the protection of information supplied by the entrants.

Requirements
A Cd with:
- 1 or 2 design plans (graphic design work)*
- A biography of the entrants (max 1 A4 sheet of paper)
- A brief description of the project (max 1 A4 sheet of paper)
- 15x15cm image / representative composition
The entry code must be written on the CDd cover.

1 or 2 A4 printouts with a clear description of the project. The entry code must be written on each sheet of paper and the entry code must be written on the envelope.

1 sealed envelope containing the entry form filled out in each field and signed. The entry code must be written on the envelope.

The project has to be depicted in one or two plans in A2 landscape format (59,4x42cm). The files will be included in the CD. The work has to contain everything necessary for a clear understanding of the project. Signs or writing on the design plans that can identify the author will lead to disqualification from the competition. The accepted formats are eps, .tif, .jpg and .pdf, in 300 dpi resolution (suitable for printing). Entrants can choose which representational techniques to adopt. The publication of projects and plans containing Alcantara® logos is only allowed with the written approval of Alcantara S.p.A.

The official competition languages are Iitalian and English.

Jury
- Patrizia Beltrami (Director, Corporate Communication Alcantara S.p.A.)
- Giulio Cappellini (Designer, Architect, Art director)
- Manuela Cifarelli (Director, Material Connexion, Milan)
- Luca Fois (President, Design Partners)
- Sara Maino (Fashion Editor in Chief, Vogue Italia)
- Stefano Pirovano (Designer)
- Corinne Poux (Head of Innovation, Hermes)
- Cendrine de Susbielle (Director, Modem Design)
- Maurizio Tripani (Secretary, General Mittelmoda International Lab)
- Marco Turinetto (Architect and Teacher Milan Polytecnic , Design Department

Awards
First Prize: 10.000 Euros
Second Prize: 4.000 Euros
Third Prize: 1.000 Euros

Competition Schedule
16 April 2008: Publication of the competition notice
30 October 2008, 18:00: Request for clarifications and queries
31 October 2008, 18:00: Deadline for entries and delivery of works
November 2008: Jury meeting
09 December 2008: Communication to entrants
January 2009: Award ceremony