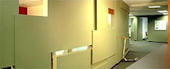 The AIA Housing and Custom Residential Knowledge Community established this awards program to emphasize the importance of good housing as a necessity of life, a sanctuary for the human spirit and a valuable national resource. The categories are:
- One and Two Family Custom Residences
- One and Two Family Production Homes
- Multifamily Housing
- Special Housing
Eligibility

All architects licensed in the U.S. are invited to submit their completed, built projects located in the U.S. In addition, owners of structures or projects fitting the eligibility guidelines may submit those projects for review. Projects completed since 01 January 2002 are eligible.
Submissions

The submission deadline is 12 December 2008. All payments will be made online and a link to the submission site will be posted once it is activated. Please check back for details or contact the Honors & Awards department at
[email protected]
.
Jury:
To be determined
Submission and Entry Fee Deadline:
12 December 2008