Yarışma Sonuçları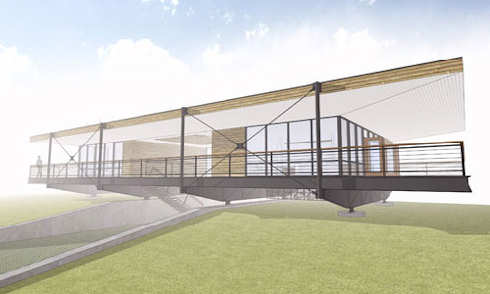 Winner:
Drew Wilgus
Yarışma Bilgileri

What does it mean to feel at home in the modern world? Dwell & Google SketchUp challenge you to explore what this means to you in the "Design Your Dwelling" design competition featuring Google SketchUp software.
Most people define their home as a place where they feel comfortable and secure. But what does that actually look like? What would make it personal to you? Is it scale, materials, sustainability, environment?
Eligibility
The Competition is open to competitors who are at least 18 years of age. The Competition is subject to all applicable federal, state and local laws and regulations, and is void where prohibited by law. Employees of Sponsors and their immediate families (spouse, parent, sibling, child, and spouse of any of the foregoing) and those living in their immediate households, whether or not related, are not eligible to enter the Competition or to win a prize.
How to Enter

1- Visit the site in Google Earth. Download the kmz file (you must have Google Earth downloaded).
2- Design a home in Google SketchUp (download at sketchup.google.com).
3- Upload your completed SketchUp model to the Google 3D Warehouse. Be sure to include the tag "designyourdwelling2008" when you upload the model.
4- Complete the Entry Form and submit up to (6) jpeg images of your model.
Judging Criteria & Submission Details
- We have selected a site for your "dwelling" in Google Earth. (hint: it is in the shadow of an iconic bridge!) The floor area of the home may not exceed 2500 square feet (232 m
2
).
- This site has special features to consider in the design which will be evaluated in the judging including: climate, public access, waterfront, etc…
- The designs will be judged on basic principles such as overall design, carbon-footprint reduction, sustainability, cost-efficiency, and authenticity.
- The designs will be evaluated based on exterior and interior design.
Submission Requirements
Submissions should be created using Google SketchUp. Submissions created in other applications will not be considered in the judging.
Each entry must contain up to 6 jpeg images / views of the home, a link to the uploaded model in the Google 3D Warehouse, and a personal 250 word description of how your design makes you feel "at home in the modern world." Please read the contest rules for details.
Jury

The contest will be judged by Dwell editors, Google SketchUp experts, and MIT professor and Dwell NextHouse architect Joel Turkel.
Entry Period
: 03 July - 31 August 2008
Awards

Grand Prize: On 12 September 2008 the competition winner will be flown to San Francisco, California to join Dwell editors for lunch at the Dwell offices in San Francisco, tour the "site" of their Dwell home, and take the Dwell / AIA architecture home tours in San Francisco. In addition, a physical 3D model of their winning home will be created and displayed in the Dwell headquarters and then gifted to the winner. Airfare will be provided by Google SketchUp and two nights accommodation in San Francisco will be provided by Dwell.