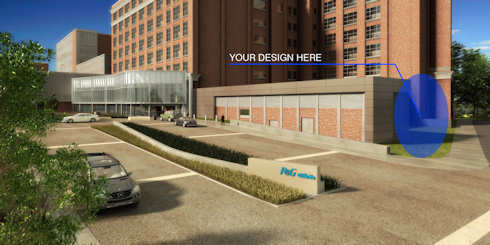 P&G/Gillette is undertaking the most significant renovation of its World Shaving Headquarters in its 100-year history. When complete, the 33-acre site, located in South Boston, will house P&G/Gillette's Research and Development, Engineering, Manufacturing, Marketing and business support.

To mark the significance of this endeavor, the Company is launching a single-phased design competition for a signature sculpture or landmark icon to mark the entry to the World Shaving Headquarters complex.

Design professionals and students are encouraged to submit designs that reflect the essence of the Gillette brand and draws inspiration from the Company's shaving product innovation and manufacturing technology. All designs should reinforce the P&G/Gillette corporate identity, enhance the newly designed campus, and contribute positively to the South Boston community.

The chosen art piece will serve as a welcome to employees and visitors, as well as a beacon for the South Boston neighborhood.
Eligibility
Entrants may be individuals or teams. One member of a team should be designated the contact person for communication purposes. Professional designers, artists, architects, students and others are all encouraged to enter. Exclusions: Members of the Advisory Committee and Jury are enjoined from participating and/or advising or assisting a competitor in any way in the competition. Employees of the architectural /engineering firms executing the renovation project are not eligible to participate.
Registration
Registration for entry is required by 06 October 2008. There is no fee.
Submission Requirements
Entrants may submit up to (2) 24" x 36" boards. The boards are to be of light-weight foam core and to have a maximum thickness of 0,5". While presentation materials are at the discretion of the entrant, competitors are encouraged to include on the submission boards: a conceptual statement describing the design concept, renderings, diagrams, drawings that illustrate the intent of the submission. Please note, physical models will not be accepted. Presentation layouts must not include any identification of the entrant. A closed envelope with a copy of the completed registration form should be firmly affixed to the back of each presentation board. The entrants Identification Number should be clearly marked on the upper right hand side on the back of each board.

Presentation boards must be accompanied by a compact disc that contains electronic PDFs and JGPs of both presentation boards. PDFs are to be 24" x 36" at 150 dpi resolution. JPG files should be 6" x 9" at 100 dpi resolution. Compact discs are only to include the digital files of the submitted boards, and are to comply with the anonymity requirements. Please check disks prior to submission to insure all files are readable.

Questions and Answers
Entrants may seek further clarification of the information presented on this site by submitting questions to the competition advisors by email before 06 October 2008. Answers to questions will be compiled into a question/answer document that will be made available on the competition website on 13 October 2008. Any changes to this document resulting from answers to the questions will become a part of the revised competition brief document.

Selection Process
Competition submissions will be judged by a jury comprised of design professionals that complement the competition's objectives and challenges. Members of the jury will judge submissions based solely upon material submitted.

Awards
First Prize: 5.000 Dollars
Second Prize: 1.500 Dollars
Third Prize: 500 Dollars

Jury
- Helen Stringer (Competition Chair, Design Director, Gillette Global Grooming)
- Holly Mullenix (Corporate Equity)
- Bret Davis Roberts (North America Enironmental Design)
- Tony Wagner (Program Manager)
- David Carlson (Senior Architect Boston Redevelopment Authority)

Schedule
06 October 2008: Registration Deadline
13 October 2008: Deadline for Questions
21 October 2008: Deadline for Question Responses
17 November 2008, 17:00 EST: Submission Deadline
December, 2008: Juried Review
December, 2008: Announcement of Winners