Yarışma Sonuçları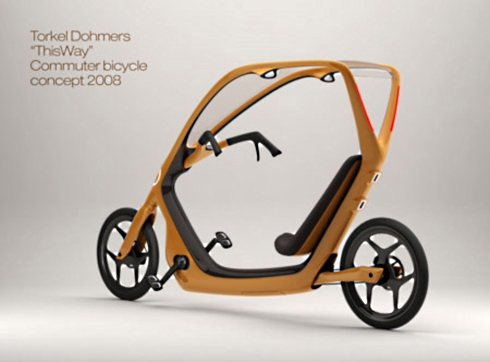 Winner:
"This Way", Torkel Dohmers
Yarışma Bilgileri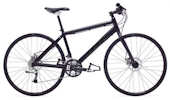 Those of us who are already cyclists know that riding a bicycle is one of the best ways to get around town. Infrastructure, enforcement, and general traffic safety issues may be the biggest obstacles to convincing people with no real interest in cycling to try riding a bike to work, but the design of the bicycle itself is also an important part of the equation. Some great discussion has taken place on the blog recently about the design of a bike for the many "potential cyclists" out there who do not currently ride. What kind of bicycle, or pedal powered machine, would it take to get those people out of their cars for trips to the store or to work? Building on those discussions, the idea of a transportation-oriented bicycle for the vast "blue ocean" of non-cyclist is the theme of this design competition.
Design Brief
Do you have an idea for a bicycle that might persuade the average person, with no prior interest in cycling, to park the car and pedal to work? That is the main idea behind this competition. The scope is up to you- choose to come up with a whole new form factor for a pedal powered machine, or focus on specific details that you consider key to accomplishing the goal of getting the average non-cyclist to consider riding a bike for transportation. Don't be constrained by products that are currently on the market, but do make sure that your concepts are based in reality (don't break the laws of physics, etc) and that they are manufacturable using existing technology. All concepts submitted will be considered, so be creative and have fun.
A jury of 6 industrial designers and 1 journalist will review and discuss the submissions to choose a winner. The jury will be looking for creative and sound concepts that are clearly defined, original, and innovative. Presentation counts too, so do your best to sell us on your concept.
Eligibility and Requirements

This competition is open to anyone18 years of age and up, worldwide.
All submissions must be original work by the designer, created for this competition, and not currently in production. Do not submit any images that contain reproduced or copyrighted work. No brand names should be visible in your images. Submissions with logos or copyrighted artwork will be disqualified.
Entry Requirements

Create and submit two jpeg presentation layouts, horizontal format at a size of 800 x 600 pixels (at 72 dpi). Higher resolution files may be requested if you are chosen as a finalist.
- The first image board should show development sketches, drawings, support images etc.
- The second image board should primarily show a final rendering or prototype photo.
- Write a short description of your concept in English - 200 words max (save as a .doc file or include in the body of your email)
In addition to the 200-word explanation, you may also include text/ notes in the composition of your images to clarify the details of your design. Keep in mind that the images will be sized for the web if posted; so make sure any text on the images is large enough to be legible.
Send the 2 jpegs and description in an email to
[email protected]
with "Commuter bike competition entry" in the subject line.
The deadline for entries will be Friday, December 5th, 2008 at 23:59 Eastern Standard time.
Prize

1 Grand Prize, a Cannondale Bad Boy bicycle valued at around 1,000 U.S. dollars, will be shipped directly to the winner from Cannondale.
Note: If the winner is in the U.S., the prize will be the Cannondale Bad Boy Disc model. For the rest of the world, it will be the Cannondale Bad Boy 700 (European version)
Jury

- James Thomas (Industrial Designer and the blogger at Bicycle Design)
- Torgny Fjeldskaar (Director of Industrial Design & Advanced Products Division at Cannondale Bicycle Corporation)
- Mark Sanders (Principal of MAS Design Products Ltd and Designer of the Strida and IF Bikes)
- Steve Zwonitzer (Principal / Founder of Propane Creative)
- Agnete Enga (Senior Industrial Designer, Smart Design / Femme Den, NYC)
- Michael Illukiewicz (Automotive Designer)
- Carlton Reid (Editor at BikeBiz, Quickrelease.tv, Bikeforall.net, and BiketoWorkBook.com)