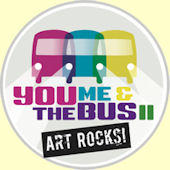 The Athens Area Arts Council (AAAC), in partnership with Athens-Clarke County and Athens Transit, announces "You, Me and The Bus II", a national design competition for bus shelters in Athens, Georgia. The project aims to enhance the public transportation system and improve quality of life in Athens by integrating utilitarian public services with artistic ingenuity and inspiration.
"You, Me and The Bus II" will fund a total of eight bus shelters, to be installed along major transportation arteries in Athens. AAAC is seeking design proposals that serve as both functional shelters for Athens riders, as well as quality works of public art. Designs should convey the theme of Art Rocks! A Public Art Tribute to the Music of Athens, incorporating site context and serving to define the areas in which they are located. Shelters must be able to hold a minimum of 3 people as well as a wheelchair space, and should also respond to the relationships between pedestrians, sidewalk, curb and street.
Eligibility
The competition is open to designers, artists, architects and students who re residents of the United States.
Submission Deadline:
12 December 2008