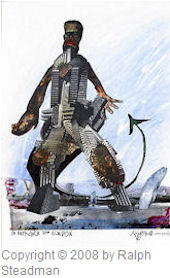 We would like you to create your own "Entrance to London" using the background base below, which you will find on the entry form. This base acted as the initial stimulus for Ralph Steadman to create his own vision of an "Entrance to London" on the River Thames.

Your entry can be humorous, outrageous, simple, complex, political or bizarre; all or none of those things. Perhaps it's hand drawn, a collage, painted or computer generated, basically anything that makes the finished piece original and inspiring, enabling you to express your vision for London. You can increase the image to any size up to A1, then let your imagination take you wherever it may go...

"The GEZE Entrance for London competition is about the power of architectural imagery and the imagination of the profession. I hope that the competition will show the full range of techniques used by architects to represent their thinking, and also contribute to a debate about monumentality and arrival in the age of the icon building. We can''t wait to publish the results and hope that some of the entries will compete with Ralph Steadman''s dystopic vision."
Kieran Long Editor of the Architects Journal
Terms and Conditions
- Only one entry per architect, more than one architect per practice is entitled to enter.
- All entrants must be aged 18 years or over.
- No entries will be accepted after the 9th January 2009.
- The judges' decision is final.
- The organisers do not accept any responsibility for entries that are lost in transit.
- Copyright will be held by GEZE for all entries in the 2008 "GEZE- An Entrance to London" Competition, including the right to publish any entries, worldwide, in any publishable format.
- The winner and runners-up agree to take part in the post-competition promotion and to attend the winner's presentation lunch.
- There are no cash substitutes available instead of the stated prize.
- The stated prize is Ralph Steadman's original artwork of an Entrance to London.
- No purchases of GEZE products are necessary.
- No entries will be accepted from employees of GEZE, the organisers or their suppliers.
- By returning their entries, applicants accept the above conditions and rules.
- The 2008 Competition is carried out exclusively in conjunction with the Architects Journal only.
- Every effort will be made to return all entries to the competition entrants after the end of the competition.