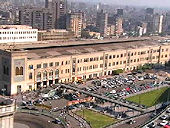 On the decision of the Egyptian Prime Minister M. Ahmed Nazief, the Egyptian Ministry of Cultural Affairs, announces the launch of an international project competition, in a single stage, for the urban design of Ramses Square, situated in the centre of the city of Cairo. In conformity with the UNESCO-UIA regulations, this competition has received the approval of the International Union of Architect-UIA.
The aim of the competition is the urban redefinition and the rehabilitation of the square and its surroundings in order to resolve the problems encountered by this part of the city, notably in relation to traffic, environmental, noise and visual pollution, of rehabilitation and identification of the spaces.
Participation
This competition is open to all architects having the right to practice the profession in their countries and to multidisciplinary teams led by an architect.
Registration takes place exclusively on-line at the competition web site: www.urbanharmony.org
The non-reimbursable registration fee, of 500 Dollars, shall be paid by bank transfer. The competition language is English.
Prizes
Total prize money will be 225.000 Dollars
First Prize: 100.000 Dollars
Second Prize: 75.000 Dollars
Third Prize: 50.000 Dollars
Jury
The international jury is composed of: Abdallah A. Attia, architect, Egypt, Abdel Mohsen Barada, Egypt, Sameh El-Alaily, architect, Egypt, Alexandru Beldiman, architect, Romania, representing UIA, Diana Agrest, architect, USA, Eliseo Arredondo, architect, Mexico, Axel Schultes, architect, Germany. Claire Bailly, architect, France, will participate as deputy UIArepresentative.
Competition Schedule
01 January 2009: Deadline for registration
21 June 2009: Deadline for handing in or dispatching projects
05 July 2009: Deadline for reception of dispatched projects
August 2009: Jury meeting and announcement of the results
Yorumlar
Yorum Sayısı: Henüz hiç yorum yapılmamış

Bütün yorumları forumda okuyun!

Bütün yorumları forumda okuyun!