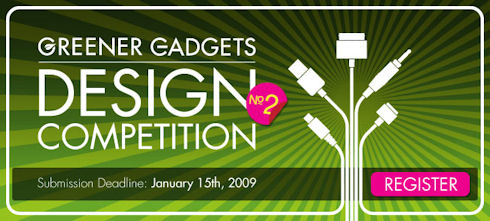 This year''s Greener Gadgets Conference will take place on February 27, 2009 in New York City. As part of the event, Greener Gadgets has once again partnered with Core77 to generate outstanding design innovations for greener electronics. This design competition challenges established design firms, emerging designers, and design students to come up with new and innovative solutions to address the issues of energy, carbon footprint, health and toxicity, new materials, product lifecycle, and social development. The top 50 entries will be published on the web for voting and commenting, and top finalists will be showcased live at the Greener Gadgets Conference for judging by an expert panel. Awards will be given out at the end of the conference program, and winners will be showcased on Core77.com, GreenerGadgets.com, CE.org, and Inhabitat.com.
Design Brief
We invite designers to explore the concept of "Greener Gadgets." Designs should seek to minimize the environmental impact of consumer electronic devices at any stage in the product lifecycle. Areas of sustainability to consider include:
1. Energy
2. Materials / Lifecycle / Recycling
3. Social & Educational Development
Participants are encouraged to consider their designs as part of the entire product ecosystem, and should think as holistically as possible. Designers may choose to focus their entries on a particular area of human enterprise (learning, playing, communicating, etc.), or a particular context (work, home, school, etc.), a particular material, or a specific device. Entries may also seek to create new paradigms for products and services.
Ultimately, we are looking for "great gadgets" of the greener kind.
Eligibility
This competition is open to all designers, students and enthusiasts worldwide. The competition is free--there is no entry fee for participation. Employees of Core77, Greener Gadgets, or CEA are not eligible to participate.
Groups and Multiple Entries
You many enter the competition as a group. One member should fill out the registration, and all group members'' names should be at the start of your descriptive paragraph. If you would like to submit more than one design, register a second time to obtain a second registration number, and include that number with your second entry.
Submission Details
Create three jpeg images, 1024 x 768, at 72 dpi
The set of images must tell the story of the design at three scales:
- 1 image showing context
- 1 image showing object
- 1 image showing details, exploded view, etc.
Write a description: Make it short - maximum 200 words. You can include text in the composition of your images, but you should send a description of your project separately as well.
Send in your work: Attach your 3 image files and 1 text file to an e-mail and send them to:
GreenerGadgets at core77 dot com. You must include your registration number in the subject line of the email.
Prizes
Grand Prize: 3.000 Dollars
Second Prize: 1.000 Dollars
Third Prize: 1.000 Dollars
Judging
Entries will be pre-judged by representatives from Core77 and Greener Gadgets. A set of 50 Semi-Finalists will be showcased at the Core77.com and GreenerGadgets.com websites for voting and commenting. A set of 10 Finalists will then be selected by the judges for final judging LIVE on stage at the Greener Gadgets Conference on February 27, 2009 in New York City. (Finalists are not required to be in attendance.) Winner and runners up will be determined at the event though a combination of on-stage judging panelists and live audience votes.
Entries will be judged on the following criteria: Innovation, clarity of design, originality, form and presentation.
Competition Schedule
03 December 2008: Competition opens; registrations and submissions
18 January 2009, Midnight EST: Entry Deadline (competition closes)
01 - 20 February 2009: Semi-Finalists showcased in online gallery for voting and commenting
27 February 2009: Finalists showcased at Greener Gadgets Conference. Winner and Runners Up selected
Konuyla İlgili Linkler